Sasha (Dog)
Tom Pelphrey used to have a three-legged rescue named Sasah that he got in 2009. Sasha passed away in July 2018.
Last week I had to say goodbye to my angel. In 2009 I was living in LA. I had recently lost my Dad and I was struggling, and felt lost. I "rescued" Sasha… and my life changed. I started leaving the house again. Adventures. The world opened back up, and my heart opened back up. In the years since, Sasha has been my near-constant companion, my best bud, my guardian angel. We lived in 6 different cities together, and we visited twice as many more. We drove cross country, did road trips, and there was ALOT of swimming involved. 14 months ago she was diagnosed with osteosarcoma, and we amputated her leg. She (like all dogs) couldn't give a fuck less. And my experience of our bond deepened to a level that I wouldn't have imagined possible. There were moments in the last year that will last forever. Recently the cancer metastasized, and she began to struggle. I put her down before she had to suffer. I held that big, soft, beautiful head in my hands and told her I love her over and over again. (I was calm and gently assertive Caesar). Once she was gone I lost my shit. I was lucky… my friends surrounded me with empathy and generosity. My brother offered to travel across the country. My girlfriend dove into the deep end with me and held my hand, never blinking. We ALL know loss. It's really fucking hard… and the questions and feelings that arise can feel crushing. But I will say this:: the sadness I feel now doesn't hold a fucking candle to the love and gratitude I feel for the last 9+ years. Not even fucking close. I have a skittish relationship to social media… I'm wary of it and self-conscious using it… but I've always love sharing pictures of Sasha. My love for her always felt like a contribution worth making… so I felt compelled to share this. If you're an animal lover, and I know you are legion, you already understand everything I'm saying. If you're still reading this at all… thank you for letting me share. The world seems so crazy right now… let's always try and remember that we share so much more than what separates us. Today I'm grateful for all the Love in my life, in all of it's many forms. #sashafierce

@tommyphelphrey, Instagram, July 2018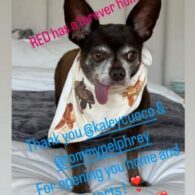 Birthday
July 28, 1982 (41)
Tom Pelphrey is an American actor best known for his roles in Guiding Light and Ozark. He first gained notable attention for his portrayal of Jonathan Randall in the long-running soap opera Guiding Light, a role that not only displayed his acting prowess but also earned him critical acclaim. In television, he continued to impress with his performances in Banshee and as Ward Meachum in Iron Fist. However, it was his role in Ozark as Ben Davis that truly highlighted his depth as an actor, bringing a complex and emotionally charged character to life.
Throughout his career, Pelphrey has worked alongside numerous celebrities and influential figures, showcasing his ability to hold his own in diverse acting ensembles. In Guiding Light, he acted alongside Kim Zimmer and Jordan Clarke. His role in Banshee saw him share the screen with Antony Starr and Ivana Miličević. In Iron Fist, he worked closely with Finn Jones and Jessica Henwick. In Ozark, he acted alongside Jason Bateman, Laura Linney, and Julia Garner, further enhancing his reputation as a versatile actor.
Pelphrey's talents have been recognized with various awards and distinctions. His performance in Guiding Light earned him two Daytime Emmy Awards, a testament to his skill and impact in the role. Additionally, his portrayal in Ozark was acknowledged with critical acclaim and a Primetime Emmy Award nomination, solidifying his status as a respected figure in the acting community.
Tom Pelphrey is currently in a relationship with actress Kaley Cuoco, and they have one child together named Matilda.