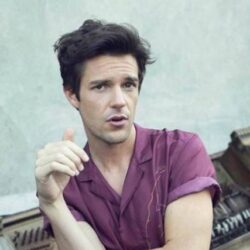 Birthday
June 21, 1981 (42)
Brandon Flowers is an American musician, best known as the lead vocalist and keyboardist of the rock band The Killers.
Emerging from the neon glow of Las Vegas, Nevada, Brandon's undeniable talent propelled The Killers to international stardom with their debut album, "Hot Fuss," in 2004. This album, including hits like "Mr. Brightside" and "Somebody Told Me," became a defining sound for a generation. Over the years, his musical contributions have not been limited to The Killers. Brandon also embarked on a solo career, releasing albums like "Flamingo" and "The Desired Effect," further establishing his mark as a contemporary musical icon.
Over his fruitful career, Brandon has rubbed shoulders and collaborated with an array of industry giants. He's joined forces with Elton John in the charity single "Joseph, Better You Than Me." He's shared the stage with legends like Bono from U2 and Bruce Springsteen. Collaborations with fellow artists like Neil Tennant of the Pet Shop Boys, Alex Cameron, and producer Ariel Rechtshaid. Brandon has been inspired by and given nods to greats such as David Bowie, Morrissey, and Johnny Cash in various performances and interviews.
Recognition of Brandon's contributions to music is evident in the numerous awards and distinctions he and his band have garnered. The Killers' third studio album, "Day & Age," earned them a Brit Award for Best International Album. In a personal testament to Brandon's songwriting prowess, his track "When You Were Young" was nominated for the Grammy Award for Best Rock Song.