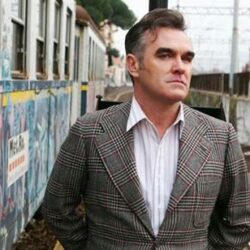 Birthday
May 22, 1959 (64)
Steven Morrissey, also known simply as Morrissey, is an English singer, songwriter, and author. He rose to fame in the 1980s as the lead singer and lyricist of the band The Smiths, which was considered one of the most important bands of the British independent music scene at the time.
After The Smiths disbanded in 1987, Morrissey embarked on a successful solo career, releasing several critically acclaimed albums and hit singles. His music is characterized by its unique blend of rock, pop, and post-punk influences, and his lyrics often deal with themes of alienation, loneliness, and social commentary.
Morrissey is known for his distinctive singing style, his charismatic stage presence, and his enigmatic public persona. He has been credited with influencing a wide range of artists, including many in the alternative and indie rock scenes.
Morrissey is also known for his controversial statements, particularly on political and social issues, which have led to criticism from some quarters. He is also known for his support of animal rights and his rejection of mainstream commercial culture.