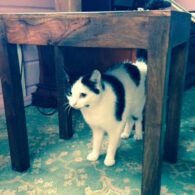 Rabbi and Mr. Hankey
Sinead O'Connor has two cats named Rabbi and Mr. Hankey. Rabbi is pictured here. In August 2015, O'Connor shared that she sadly was looking to find new homes for both cats due to her having to move from her countryside home to a rental in the city, with only two weeks notice, to accommodate her son's medical issues.
My son's medical condition necessitates we move house in the next fortnight. My beloved cat, Rabbi can't come as we are renting and animals are not allowed. Besides which we will be in the city centre and she'd be dead if she escaped. She is a very nervous little creature (she's the runt) and likes a lot of snuggling and attention. Ahe would be best suited to someone who is literally mental when it comes to spoiling cats and loving them up. Perhaps a young child or a very old person. Pls share . This animal is very special to me and is my heart. So someone very special is all who can have her… This other cat of mine, Mr Hankey also needs homing due to our house move. He is the brother of Rabbi but not at all nervous. In fact the opposite. Very caring and compassionate , protective and independent. Likes a good snuggle maybe twice a week. Rest of the time he's jus' cruisin' around checkin' out the ladies… He's neutered though. (So is Rabbi) so worry not. But he does eat like a hog.

Sinead O'Connor, Facebook, August 2015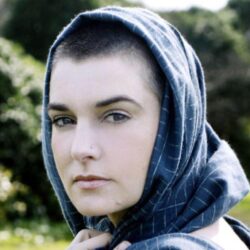 Birthday
December 8, 1966 (56)
Sinead O'Connor is an influential Irish singer-songwriter known for her distinctive voice and potent, emotive lyricism. Her career, marked by outspokenness and controversy, spans multiple decades and has influenced a generation of artists with its resilience and unapologetic authenticity. O'Connor passed away in July 2023 at the age of 56.
O'Connor's music discography is punctuated by momentous releases that have left indelible marks on the music landscape. The release of her second album, I Do Not Want What I Haven't Got, catapulted her to global fame, featuring the unforgettable rendition of Prince's "Nothing Compares 2 U." Her debut album, The Lion and the Cobra, also received critical acclaim, showing an artist unafraid to experiment with different genres including rock, pop, and Irish folk. Other notable albums include Universal Mother and Faith and Courage, further showcasing her lyrical prowess and vocal versatility. Throughout her career, she has collaborated with a variety of musicians, each time contributing to a unique and memorable musical creation.
In terms of collaboration, O'Connor's work spans across a range of genres and artists, underscoring her adaptability as a musician. Among her notable collaborations are her work with iconic musicians such as Peter Gabriel on "Blood of Eden," Massive Attack on "Special Cases," and The Chieftains on "The Foggy Dew." She has also shared the stage with U2 for a rendition of "Mothers of the Disappeared" and collaborated with Jah Wobble for "Visions of You." Her unforgettable performance alongside Roger Waters for "Mother" during The Wall Live tour further solidifies her reputation as an artist willing to traverse genres and boundaries.
O'Connor's career has been recognized with various distinctions and titles, attesting to her impact and influence in the music industry. "Nothing Compares 2 U" was a number one hit in multiple countries and earned her a Grammy nomination. The song won an MTV Video Music Award for Video of the Year, which she famously refused, highlighting her disregard for the commercial aspects of her profession. In 2019, she received the Magdalene Laundry Award in recognition of her advocacy for the rights of children and women in Ireland.