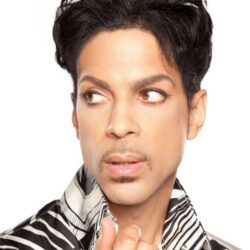 Birthday
June 7, 1958 (65)
Prince Rogers Nelson was an American singer, songwriter, and musician who was best known for his eclectic and innovative music, flamboyant stage presence, and intricate live performances. He was a pioneer of the Minneapolis sound, a blend of funk, rock, and pop that became popular in the 1980s. With his trademark falsetto vocals, blistering guitar solos, and provocative lyrics, Prince released numerous hit songs such as "Purple Rain," "When Doves Cry," "Kiss," and "Little Red Corvette."
Throughout his career, Prince collaborated with several artists, musicians, and celebrities across various genres. In 1984, he worked with Sheila E., a percussionist, and singer, on her album "The Glamorous Life." He also collaborated with Madonna on the song "Love Song" from her album "Like a Prayer" and with Chaka Khan on her album "Epiphany: The Best of Chaka Khan." Additionally, he co-wrote and produced "Manic Monday" for the Bangles, which became a top-ten hit.
Prince's career spanned four decades, during which he won seven Grammy Awards, a Golden Globe Award, and an Academy Award for Best Original Song Score for "Purple Rain." He sold over 100 million records worldwide, making him one of the best-selling artists of all time. In addition to his music career, Prince was also a multi-instrumentalist, proficient in over a dozen instruments, including guitar, piano, drums, and bass.
Prince was a humanitarian and philanthropist who supported various charities and causes. He was an advocate for animal rights and often spoke out against animal cruelty. In 1999, he donated $12,000 to the Humane Society of the United States to help fund an investigation into a puppy mill in Minnesota. Prince was also an animal lover who owned several pets, including cats and dogs. He once said in an interview, "Animals are people, too. They should be treated with the same respect and dignity as human beings."
Prince passed away on April 21, 2016.