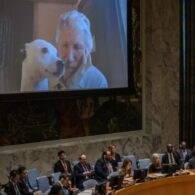 Georgia Brown
Roger Waters has a dog named Georgia Brown. This doggo made headlines in February 2023, when she appeared with Waters to speak on behalf of Russia to condemn America's involvment in the war in Ukraine and call President Joe Biden a war criminal to the UN Security Council.
Birthday
September 6, 1943 (79)
Roger Waters is an English songwriter, singer, bassist, and composer. In 1965, he co-founded Pink Floyd where he was the bassist. Following the departure of singer-songwriter Syd Barrett in 1968, Roger also became their lyricist, co-lead vocalist, and conceptual leader.
Pink Floyd achieved international fame with albums The Dark Side of the Moon (1973), Wish You Were Here (1975), Animals (1977), and The Wall (1979). By the early 80s, Pink Floyd had become one of the most critically acclaimed and successful groups in popular music.
Amidst creative differences, Waters left Pink Floyd in 1985 and began a legal battle with the band regarding their continued use of the name and material. In December 1985, Waters issued a statement to EMI and CBS invoking the "Leaving Member" clause in his contract.
Roger Waters has been the subject of controversy following some off off hand remarks. The popular artist often uses his platform and interviews to vent which has rubbed audiences the wrong way. Most notably in 2020, Waters was accused of anti-Semitism after comments about Jewish billionaire Sheldon Adelson while speaking with the Middle East Media Research Institute. In 2022, Waters found that The Globe and Mail chose to review The Weeknd's live show rather than his own. The news prompted the artists to take to social media to make claims that he is "far, far more important than [The Weeknd or Drake] will ever be, however many billions of streams they've got". The news struck fans the wrong way leading to them responding to his comments as a "Privileged white boomer".