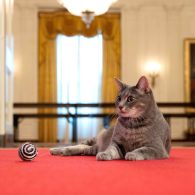 Willow the 2-Year-Old Tabby
The Bidens adopted a 2-Year-Old Tabby named Willow in January 2022.
"A farm cat from Pennsylvania, Willow made quite an impression on Dr. Biden in 2020 when she jumped up on the stage and interrupted her remarks during a campaign stop," the spokesman said. "Seeing their immediate bond, the owner of the farm knew that Willow belonged with Dr. Biden."
Joseph Biden Jr., born November 20, 1942, is an American politician who is the 46th president of the United States. He served as Vice President to Barack Obama, the 44th president of the United States from 2009 to 2017.
Biden is member of the Democratic Party and represented Delaware in the United States Senate from 1973 to 2009.