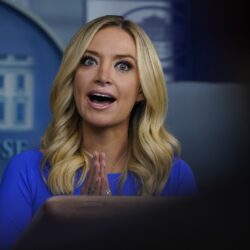 Birthday
April 18, 1988 (35)
Kayleigh McEnany is an American conservative political commentator and author who served as the 33rd White House press secretary for the Trump administration from April 2020 to January 2021. She currently serves as an on-air contributor for controversial news media outlet Fox News.
She began her media career as a producer for Huckabee on Fox News and later worked as a commentator on CNN. Early on in the 2016 Republican Party presidential primaries, she was a critic of Donald Trump, but over time became known as a staunch defender of Trump. In 2017, she was appointed national spokesperson for the Republican National Committee.
She worked for Trump's 2020 presidential campaign as National Press Secretary from 2019 to 2020 and again as Senior Advisor from October 2020 to January 2021. On April 7, 2020, she was appointed as White House Press Secretary in the Trump administration, a position she held until Joe Biden's inauguration as 46th president. After the Trump administration, McEnany has been employed by Fox News as an on-air commentator.