 No Pets (Jason Mantzoukas pets)
While Jason Mantzoukas has done the voices of many animals, he does not have any reported pets of his own.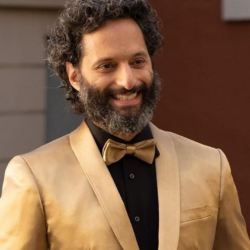 Birthday
December 18, 1972 (50)
Jason Mantzoukas is an American character actor, comedian, writer, and podcaster. He gained popularity for his role as Rafi in the hit FX series The League. Later, he joined Paul Scheer and June Diane Raphael as a co-host for the podcast, "How Did This Get Made?". Mantzoukas has also appeared in the films The Dictator, Sleeping with Other People, They Came Together, Conception, and John Wick: Chapter 3. He has had recurring roles on three TV shows created by Michael Schur: Parks and Recreation (as Dennis Feinstein); Brooklyn Nine-Nine (as Adrian Pimento); and The Good Place (as Derek Hostedtler). He also voices the characters Jay Bilzerian in the Netflix animated series Big Mouth, Alex Dorpenberger in the HBO Max animated series Close Enough, and Rex Splode in the Amazon Prime animated action series Invincible.