No Pets (Keanu Reeves)
Keanu has no pets, but in a Reddit AMA when asked if he likes dogs or cats, he replied "Apples and oranges. I'm going to say some days cats, some days dogs. Depends on the cats and dogs you meet."
In recent years he has had notable doggie costars in two of his movies. In the 2014 movie John Wick, he had a beagle puppy that was tragically murdered. In John Wick 2, he has an adopted Pitbull.
Daisy AKA Andy
In the film John Wick, Daisy is a beagle gifted to John Wick by his late wife. The dog's tragic death is the catalyst for John Wick's bloody revenge. The dog's actual name is Andy and he hit it off immediately with co-star Keanu Reeves, according to Animal Actors International dog trainer Kim Krafsky.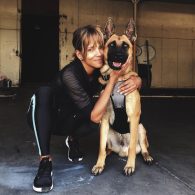 Dazir and Havan
Dazir and Havan are Sofia Al-Awar's dogs in John Wick: Chapter 3 — Parabellum featuring Keanu Reeves. They're played by 5 Belgian Malinois Shepherds so that any one dog wouldn't get too stressed out or tired during filming. The dogs were all trained by Halle Berry who plays Sofia, so they would respond to her onscreen. Their names are Santana, Tai, Sam 7, Boyca, and Ikar, and each had their own distinct personality.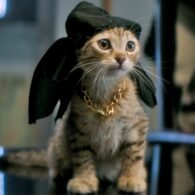 Keanu
While not technically a pet or real, Keanu is a famous animated cat, voiced by Keanu Reeves. The film, titled Keanu (2016), was written by Jordan Peele and stars Peele and Keegan-Michael Key. While named after Reeves, the film originally didn't have him as the voice of the cat. After his sister showed him the trailer, Reeves got in touch with the producers, then his voice was added in before its official release.
Keanu Charles Reeves' first name means "cool breeze over the mountains" in Hawaiian. He's known to love his animal co-stars and has a history of supporting the animal rights group PETA. He's not known to own any pets. Keanu Reeves career became notable with the Bill and Ted movies but skyrocketed after his roles in both Speed and The Matrix Trilogy. He won the MTV Movie Award for Most Desirable Male in 1992 and has since shelved other notable nominations and awards including a Brave Otto for Best Actor and a BAMBI for Best International Actor.
Does Keanu Reeves have a Dog
Unfortunately, Keanu Reeves still does not have a dog. After watching America's favorite actor avenge an adorable puppy in John Wick, the world asked, "Will Keanu get a dog and make us love him even more?" The answer is still no. Even after the movie became a series with multiple films and even more adorable dogs (hello, Halle Berry and the two Belgian Malinois hounds in John Wick 3!), Keanu Reeves is still dog free! It's a travesty but we still love him.
Fun fact: Keanu Reeves (as John Wick) wasn't the only badass during filming. Cha Cha, a pitbull starring in the third film, picked a fight with a horse on set in New York. It's fitting, if you think about it — John Wick's dog would be tough enough to fight a horse.
On a related but unrelated note, Keanu Reeves stated during a Reddit AMA that his favorite superhero is Wolverine. Wolverine is only a couple of steps away from being a hound, so maybe there's still hope.
Keanu Reeves' History
Keanu Charles Reeves is an American-Canadian actor that was born in Lebanon to an English mother and Hawaiian father. As a child and teenager he lived in Australia and New York, before settling in Toronto. Being one of Hollywood's leading male actors over the last 30 years, he has amassed an estimated net worth of $350 million. That's enough to buy several thousand puppies, or even an entire puppy ranch, but we digress.
Living in Canada as a teen, he became a skilled hockey player. He also developed a love of acting, which landed him a role in the 1986 movie Youngblood, which starred Rob Lowe and Patrick Swayze. He broke into the mainstream with his starring role in the two Bill and Ted movies. He followed it up with Point Break in 1991, which had him starring opposite Patrick Swayze. His lead role in Speed, co-starring Sandra Bullock and Dennis Hopper, is what cemented him as a leading actor in Hollywood. Acting in dozens of movies, he is best known for The Matrix Trilogy (1999-2003) and for the John Wick series.
In 2020, Keanu Reeves played the role of Bill in the beloved Bill & Ted series, Bill & Ted Face the Music (2020) with Samara Weaving.