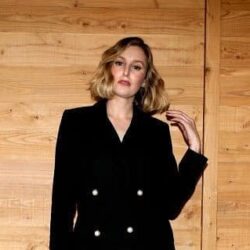 Birthday
July 16, 1986 (37)
Laura Carmichael is an English actress who captured the hearts of viewers worldwide through her role as Lady Edith Crawley in the acclaimed British drama series "Downton Abbey."
Carmichael's on-screen presence isn't limited to the grand halls of Downton; she has also displayed her talent in films like "Burn Burn Burn" and "A United Kingdom." Her role in the gripping British television series "Marcella" showed her versatility as an actress, offering her the opportunity to dig deeper into darker, more complex characters. Yet, her involvement in stage productions, such as "The Maids," allows Carmichael to keep one foot in the theatre world, paying homage to her roots.
Collaborations have also played a crucial role in shaping Carmichael's career. Her work with fellow "Downton Abbey" cast members Michelle Dockery, Hugh Bonneville, and Maggie Smith provided a dynamic ensemble that brought the series to life. In the realm of film, her partnership with David Oyelowo in "A United Kingdom" enriched her filmography. On stage, she has performed alongside Uzo Aduba and Zawe Ashton in "The Maids." Other notable collaborations include working with Anna Friel in "Marcella," Simon Pegg in "Lost Transmissions," and Tuppence Middleton in "Trap for Cinderella." She also shared screen time with Felicity Jones in "The Invisible Woman," Natalie Dormer in "Marcella," and Chloe Pirrie in "Burn Burn Burn."
Carmichael's role in "Downton Abbey" was part of the ensemble win for the Screen Actors Guild Award for Outstanding Performance by an Ensemble in a Drama Series. She also received critical acclaim for her role in "The Maids," where her performance was lauded as a departure from her "Downton Abbey" character.