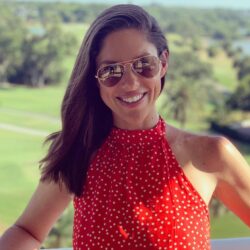 Birthday
May 1, 1986 (37)
Abby Huntsman is an American journalist and television personality primarily known for her role as a co-host on ABC's daytime talk show, "The View."
Huntsman has been a significant presence, spanning multiple genres and platforms. She initially gained popularity as a host and producer for HuffPost Live, the Huffington Post's streaming network. However, it was her tenure on "The View" that catapulted her into mainstream consciousness. Apart from "The View," Huntsman has also had stints on Fox News, co-hosting "Fox & Friends Weekend," and MSNBC, where she appeared as a political commentator.
Over the years, Huntsman has collaborated with a many celebrities and influential personalities across different industries. She has shared the stage with Whoopi Goldberg, Joy Behar, and Meghan McCain on "The View." While at Fox News, she worked alongside personalities like Tucker Carlson and Sean Hannity. Additionally, she's interacted with political figures such as Elizabeth Warren and Kamala Harris during interviews and discussions. She's also collaborated with Arianna Huffington, founder of the Huffington Post. Notably, she has appeared on podcasts hosted by people like Joe Rogan and Ben Shapiro, thereby stretching her reach beyond conventional media.
While Abby Huntsman may not have a closet full of golden statues, her contributions have certainly been recognized. She was a recipient of the Distinguished Alumni Award from the University of Pennsylvania, recognizing her career achievements and commitment to journalistic integrity. She has also been part of "The View" team when the show received Emmy nominations.