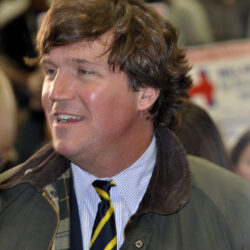 Birthday
May 16, 1969 (54)
Tucker Carlson is an American paleoconservative television host and political commentator who is best known for his show Tucker Carlson Tonight on the controversial news media outlet Fox News since 2016. He was terminated from the network in 2023 after Fox News settled a defamation lawsuit with Dominion Voting Systems for $787.5 million. A similar lawsuit is still pending for $2.7 billion US in damages with voting technology company, Smartmatic. He describes himself as a nationalist and he has been a vocal opponent of progressivism and critic of immigration. Carlson has promoted conspiracy theories about topics such as immigration, COVID-19, vaccinations, and his support of the 2021 U.S. Capitol attack.
Carlson began his career as a journalist in the 1990s, working as a reporter for various news organizations, including CNN and PBS. He later became a co-host on the popular news program "Crossfire" on CNN, where he gained a reputation for his hard-hitting interviews and conservative views. In 2001, Carlson was offered his own primetime show on MSNBC, "Tucker," which aired for three years.
One of the milestones in Carlson's career was his appointment as the host of "Tucker Carlson Tonight" on Fox News in 2016. The show quickly became one of the network's most popular programs, thanks in part to Carlson's controversial commentary. In addition to his work on Fox News, Carlson has also written several books, including "Politicians, Partisans, and Parasites: My Adventures in Cable News" and "Ship of Fools: How a Selfish Ruling Class is Bringing America to the Brink of Revolution."
Over the years, Carlson has collaborated with many high-profile celebrities and influential people. Some of the most notable include former President Donald Trump, whom he has interviewed numerous times, as well as conservative commentator Ann Coulter, radio host Rush Limbaugh, and former Vice President Dick Cheney. Carlson has also worked with Hollywood actor and director Clint Eastwood, who directed a segment on "Tucker Carlson Tonight" in 2019.
While Carlson has not been publicly associated with any animal non-profit organizations, he has been a vocal advocate for animal rights and welfare. In a 2020 segment on his show, Carlson spoke out against animal abuse and highlighted the need for stricter animal cruelty laws.