 No Pets (Donald Trump)
Donald Trump does not have any pets and is said to not like dogs, along with saying he wasn't interested in having a dog. This made him the only president in over a century to not have a dog in the white house, which you can read about here.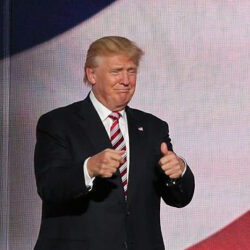 Birthday
June 14, 1946 (77)
Donald Trump is an American businessman, television personality, and former politician who served as the 45th president of the United States from 2017 to 2021. He was born and raised in Queens, New York City, and began his career in real estate before expanding into other ventures, including television and politics.
One of Trump's early roles was as the chairman and president of The Trump Organization, a real estate and hospitality company founded by his father. Under his leadership, the company grew to become a global brand, with interests in real estate development, hotels and resorts, and entertainment.
Throughout his career, Trump has been involved in various projects and collaborations with other artists and celebrities. He has appeared in several films and television shows, including "Home Alone 2: Lost in New York," "The Fresh Prince of Bel-Air," and "Zoolander." In 2004, he became the host of the reality television show "The Apprentice," which aired for 14 seasons.
One of the milestones in Trump's career was his successful bid for the presidency in 2016. Running as the Republican nominee, he defeated Democratic nominee Hillary Clinton to become the 45th president of the United States. During his time in office, he implemented a number of controversial policies and faced numerous controversies, including impeachment proceedings in both 2019 and 2021.
Trump has worked with several high-profile celebrities throughout his career. He has had business dealings with rapper Kanye West and has been photographed with musicians such as Justin Bieber and Kid Rock. He also has had interactions with athletes like Tom Brady and Tiger Woods. In addition, he has worked with several notable politicians, including Russian President Vladimir Putin former New York City Mayor Rudy Giuliani and former Secretary of State Rex Tillerson.
He is married to Melania Trump and father to Ivanka Trump. He was previously married to Ivana Trump.