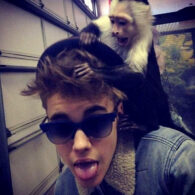 OG Mally
OG Mally was a baby capuchin monkey that Bieber got as a present from music producer Jamal "Mally Mall" Rashid in early 2013. This led to controversy when he brought him to a concert in Germany without any paperwork, where the monkey was taken in by the authorities. Mally was held there for weeks for Bieber to provide the proper paperwork, which he never did. This led to rumors the monkey was bought on the black market. Mally went on to live at the Hodenhagen Serengeti Wildlife Park. During Bieber's Comedy Central Roast, he brought out a capuchin claiming it was Mally, but was later found out it was an actor monkey posed as him.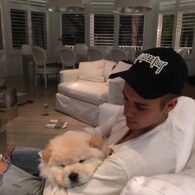 Todd The Stud
Bieber revealed his latest pet, a fluffy chow puppy, through his very own Instagram account @ToddTheStud (The channel looks like it has been deleted and recreated by a third party). He was featured in a Cribs-like interview with BBC Radio 1, there were some rumors that the famous pop star had somehow lost the adorable puppy after posting about his on his social media accounts. Because of Bieber's busy schedule, Todd was given to C.J. Salvador, who is one of his dancers. Todd made headlines again in early 2017, with news that he was born with severe hip dysplasia and would affect his ability to walk as he grows older. To fix this condition, corrective surgery is needed that would cost $8,000. Salvador was able to raise enough money for it, thanks to 90 donors contributing to the cost, including Jaden Smith.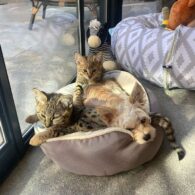 Justin Bieber is a Canadian musician who was born March 1, 1994 and has an estimated net worth of $225 million. He was discovered through his videos on YouTube in 2008 and was signed the next year by RBMG Records, founded by R&B artist Usher and prominent talent manager Scooter Braun. After his 2010 debut album, My World went platinum in the United States, Canada and the UK, he's gone on to dominate the pop music scene with three more Platinum albums, ultra-successful world tours and multiple awards.
Justin Bieber is married to Hailey Baldwin.