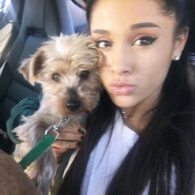 Strauss
The 7th dog to join the Grande clan, Ariana adopted Strauss on 7th October 2015, in Tulsa, Oklahoma. Before Ariana Grande's concert at BOK Center. Grande got a surprise meet and greet with eight dogs from ARF Tulsa, the Animal Rescue Foundation of Tulsa. Ariana instantly fell in love with Strauss and ended up adopting him.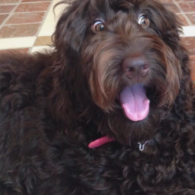 Ophelia
No pet posse is complete without some very family but slightly unique popular mix breed like a chocolate Labradoodle. When asked why Ariana named her "Ophelia", she says, "A friend suggested it, I thought it was funny because it sounded like an old queen, you know? It sounded proper and old and kind of funny."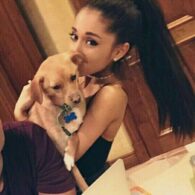 Toulouse Grande
Most people search for Toulouse Grande's net worth when they think of Ariana Grande's little pup. He has an estimated $1,500,000.00 net worth and he has been living the high life with his superstar mum, travelling on private jets and staying in posh hotels in Europe. Much like most celebrity pets, Toulouse has his own Instagram page. This one is shared with her other friends Ophelia and Coco. Thanks to the massive popularity of Ariana Grande, this pet has more followers than all my friends with over 93K fans. He gets his name from the beige kitten in Disney's The Aristocats.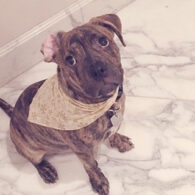 Cinnamon
Adopted in December of 2014, Cinnamon is an adorable rescue owned by Ariana Grande. "She was found in a box on the side of the street a few months ago & has been living in a rescue ever since," wrote Ariana. "Now she lives with me & my other babies! She will be safe, spoiled and loved unconditionally! Absolutely shatters my heart how somebody could toss an innocent creature aside like that."
"Nothing hurts my heart more. We love you so so much Cinnamon. Welcome to the Grande family my babe #adopt."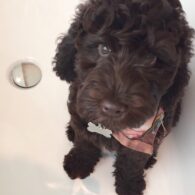 Sirius
One of the latter to join the Grande clan, Sirius is named after one of her favorite Harry Potter characters. He made his grand appearance on her Instagram with the comment, "Sirius Black newest member of the puppy posse … the puppy breath is out of this world. I am going to be the Edie Beale of dogs (sic)." Sirius has been living the high life with his superstar mum, travelling on private jets and staying in posh hotels in Europe.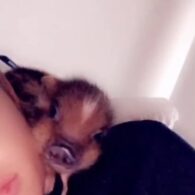 Piggy Smallz
Ariana Grande first showed off her little piglet Piggy Smallz in September 2018 on Instagram. His name is a tribute to the late rapper Notorious B.I.G., aka Biggy Smallz. In October 2018, her fiance and comedian Pete Davidson got a tattoo of Piggy Smallz.
https://www.instagram.com/p/Bo10GCfFklB/
Ariana Grande-Butera is largely known as Ariana Grande. She supports an LA animal rescue that rehabilitates animals in need. Grande is a well-known animal lover who has plenty of pooches to go around. She's won a variety of awards for her 4-octave vocal range, including  two Grammy Awards, one Brit Award, two Billboard Music Awards, three American Music Awards, nine MTV Video Music Awards, and 27 Guinness World Records. Apparently, as of 2022, Ariana Grande's pets include nine dogs.
Ariana Grande's Pets
Ariana Grande's nine dogs are Coco, Toulouse, Cinnamon, Strauss, Lafayette, Pignoli, Myron, Snape, and Lily. Coco was Ariana's first dog, but Toulouse has joined her on tour and on the Jimmy Fallon show, creating the rumour that he might be the dog-mom's favorite. She's said, "he just gets it" when asked if he was trained. Her micro-pig Piggy Smallz, mentioned above, also rules the house. But, the one animal Ariana Grande will likely never have is a cat as she's allergic, as well as bananas and shellfish.
Grande is also a vegan, though if it's a dietary choice or for the love of animals, we're not sure.
Grande Career
Grande was born June 26, 1993, is an American singer and actress. She began her career in the Broadway musical 13, before landing the role of Cat Valentine on the Nickelodeon television series Victorious in 2009. Grande's acting accolades have landed her in: Snowflake, the White Gorilla (2011), Underdogs (2016), Zoolander 2 (2016), Mariah Carey's Magical Christmas Special (2020), Ariana Grande: Excuse Me, I Love You (2020), Billie Eilish: The World's a Little Blurry (2021), and Don't Look Up (2021). She performed in Don't Look Up alongside Kid Cudi, joining the cast with Jennifer Lawrence, Leonardo Dicaprio, Meryl Streep, Jonah Hill, Timothée Chalamet, and Chris Evans.
Grande's music career began with the soundtrack Music from Victorious (2011). She signed a recording contract with Republic Records and released her debut studio album, Yours Truly in 2013, which debuted at No. 1 on the US Billboard 200. Above all her accomplishments, big ups to Ariana for her dedication to working with sheltered animals.
Grande Personal Life
Ariana is the younger sister to Frankie Grande and she is married to Dalton Gomez. Prior to her marriage to Gomez, the singer was engaged to Pete Davidson before they called it quits, but not before he got a tattoo of her iconic rabbit ears among many others — including one dedicated to Piggy Smallz the piglet. Ariana has also allegedly dated Mac Miller, Graham Phillips, Jai Brooks, Nathan Sykes, Ricky Alvarez, and Big Sean. She's collaborated musically with Mac Miller, Nathan Sykes, and Big Sean. Grande also joined Justin Bieber on his Believe Tour for three shows though they did not date.
With, we're assuming, inspiration from these past relationships, Ariana Grande has produced multiple songs about being in love and breaking up — especially "Thank U Next" which names names. And, it's not for nothing — songs like "Thank U Next" and "Boyfriend" have netted Ariana multiple awards.
Ariana faced backlash over Mac Miller's death. Unfortunately, the singer was blamed by some of the public for his tragic passing.
Ariana Grande Collaborations
Ariana Grande's collaborations includes amazing works with some of the most influential artists in the world.
Ariana Grande and Nicki Minaj – Get on Your Knees: The song is the fifth track from Nicki Minaj's album The Pinkprint. It was officially released on December 15, 2014. Grande added her vocals to the song 2 weeks before its release. It peaked at No. 88 on the Billboard Hot 100, despite not being released as a single. Listen to the Song.
Ariana Grande & Jessie J and Nicki Minaj – Bang Bang: The song was first sent to hot adult contemporary radio on 28 July 2014 through Republic Records and released as a digital download the next day by Lava and Republic Records as the lead single from Jessie J's third studio album Sweet Talker (2014). "Bang Bang" debuted at number six and later peaked to number three on the US Billboard Hot 100. It debuted at number one in the United Kingdom becoming Jessie's third number one, Grande's second number one debut that year and marked Minaj's first number one single on the chart. Listen to the Song.
Ariana Grande & Liz Gillies – Give It Up: The song was performed by Elizabeth Gillies and Ariana Grande, (2010) in the Victorious two-part special, "Freak the Freak Out". "Give It Up" received mixed reviews from music critics, who complimented its aggressive lyrics and likened it to the music by American recording artist Britney Spears. Upon the release of the album, the song debuted on the Billboard Bubbling Under Hot 100 singles chart in the United States at #23 from the strength of digital downloads. Listen to the Song.
Ariana Grande & Zedd – Break Free: The song premiered on July 2, 2014, on Total Ariana Live, MTV's revival of Total Request Live. The song was made available by digital download later that day and was serviced to contemporary hit and rhythmic radio on July 8, 2014, as the second single from Grande's second studio album My Everything (2014). "Break Free" peaked at number four on the Billboard Hot 100, becoming Grande's third consecutive top-ten from My Everything after "Problem" and "Bang Bang", and fourth overall in the US. Similarly, "Break Free" hit number three on the Australian ARIA Charts, and number five on the Canadian Hot 100 and the New Zealand Singles Chart. Listen to the Song.
Ariana Grande & The Weeknd – Love Me Harder: The song was a collaboration between Grande and The Weeknd and from Grande's second studio album, My Everything (2014). In the United States, the song peaked at number seven on the Billboard Hot 100, becoming Grande's fourth consecutive top-ten single off the album and making her the artist with the most top-ten singles in 2014. Listen to the Song.