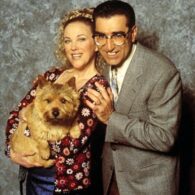 Brillo (Winky the dog from 'Best in Show')
In the classic mockumentary Best in Show (2000), Catherine O'Hara plays Cookie, and Eugene Levy plays her husband Gerry Fleck, who together have a Norwich Terrier named Winky. Winky's real name is Brillo.
God loves a terrier, yes he does
God loves a terrier, that's because
Small, sturdy, bright, and true
They give their love to you
God didn't miss a stitch
Be it dog or be it bitch
When he made the Norwich merrier with its cute little derriere
Yes, God loves a terrier

Cookie and Gerry Fleck, Best in Show (2000) No Pets (Catherine O'Hara)
Catherine O'Hara has no reported pets of her own.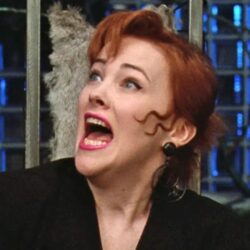 Birthday
March 4, 1954 (69)
Catherine O'Hara is a Canadian-American actress, comedian, and writer, best known for her roles in movies such as Beetlejuice, Home Alone, Best in Show, and the TV series Schitt's Creek.
O'Hara first gained recognition as a member of the improvisational comedy group, The Second City, where she co-starred in the television show SCTV. She ventured into film with memorable performances in classics like Beetlejuice and Home Alone. However, it was her collaboration with director Christopher Guest in films like Waiting for Guffman, Best in Show, A Mighty Wind, and For Your Consideration that solidified her reputation as a comedic powerhouse. O'Hara's most recent notable role was in the critically acclaimed television series Schitt's Creek, where she portrayed the eccentric former soap star, Moira Rose, a role that further demonstrated her ability to create and inhabit compelling characters.
Throughout her career, O'Hara has had the privilege of collaborating with a variety of accomplished individuals. She has frequently teamed up with her SCTV co-star Eugene Levy in numerous projects, including the aforementioned Schitt's Creek, where they played a hilarious married couple. In the realm of film, she has worked with Tim Burton, Michael Keaton, and Winona Ryder in Beetlejuice, and Macaulay Culkin in the Home Alone franchise. Her partnership with director Christopher Guest and actor Fred Willard in several mockumentary films also stands out as a significant career highlight.
O'Hara's consistently impressive performances have not gone unnoticed in the industry. She received a Primetime Emmy Award for Outstanding Lead Actress in a Comedy Series for her portrayal of Moira Rose in Schitt's Creek, a character that has since become iconic. Her role in A Mighty Wind also earned her an American Comedy Award for Funniest Supporting Actress in a Motion Picture.