 No Pets (Mark Andrews)
Mark Andrews does not have any reported pets.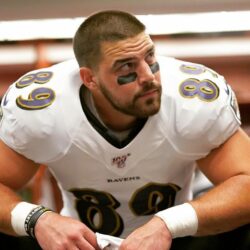 Birthday
September 6, 1995 (28)
Mark Andrews is an American football player playing as a tight end for the Baltimore Ravens in the National Football League (NFL) as of 2023. He was drafted by the Ravens in the third round of the 2018 NFL Draft after playing college football for the University of Oklahoma Sooners. In just a few years, Andrews has established himself as one of the most dynamic and productive players in the league, with numerous accolades to his name.
Andrews' breakout role came in his rookie season, where he quickly established himself as a key player in the Ravens' offense. He finished the season with 34 receptions for 552 yards and three touchdowns, earning him a spot on the PFWA All-Rookie Team. Andrews continued to improve in his second season, becoming a Pro Bowl selection after recording 64 receptions for 852 yards and 10 touchdowns, which led all NFL tight ends.
One of the most significant milestones in Andrews' career came in the 2019 season, where he helped lead the Ravens to a 14-2 record and the top seed in the AFC playoffs. Andrews played a crucial role in the Ravens' record-setting offense, which set an NFL record for the most rushing yards in a single season. The team's success was a testament to Andrews' talent and hard work, as well as his ability to work well with his teammates and coaches.
Andrews has collaborated with several celebrities and influential people throughout his career. One notable example is his partnership with rapper Meek Mill, who featured Andrews in his music video for the song "Pain Away." Andrews is also friends with professional basketball player Trae Young, and the two have been seen supporting each other's games and training together. Andrews has also been a guest on ESPN's "First Take" and "Get Up," where he has discussed his career and shared his insights on the NFL.
In addition to his football career, Andrews is an advocate for animals and animal non-profit organizations. He has been involved with the Baltimore Animal Rescue and Care Shelter (BARCS), volunteering his time and resources to help animals in need. Andrews has also been a spokesperson for the "PETA Adopt, Don't Shop" campaign, which encourages people to adopt pets from shelters rather than buying them from breeders. Andrews' passion for animals and his dedication to animal welfare make him a role model both on and off the field.