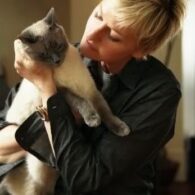 George
George is a Siamese who loves to cuddle (both with people and his cat siblings). His celebrity status has been known to attract the likes of wild bobcats, as seen in a tweet from Ellen. Chairman
Together with Portia de Rossi, Ellen Degeneres has a cat named Chairman.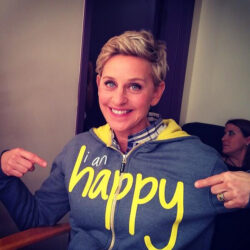 Birthday
January 26, 1958 (65)
Ellen Lee Degeneres is also known as Ed. In 2009, Ellen became part owner of the all-natural pet food company Halo Purely for Pets. She and her wife, Portia, have rescued and adopted many cats and dogs together over the years. Ellen often discusses how much she loves animals on her talk show, mentioning that "they are the best companions that you can have". They've become such a popular aspect of Ellen's life and show that she even added them as adorable pins to her website for purchase as well as an entire section of pet accessories. Ellen is an American comedian and actress best known for her talk show "The Ellen Degeneres Show." She has won a number of awards. 
Ellen Degeneres' Career 
Ellen's stand-up career started in the early 1980s and which lead to popular appearance including The Tonight Show Starring Johnny Carson. Her career picked up momentum when her TV sitcom "Ellen" was aired in 1994 to 1998. Since then, she has won 13 Emmys, 14 People's Choice Awards, and numerous other awards for her work and charitable efforts. Ellen met Portia de Rossi in 2014. 
Pet Sibling Drama
In September 2020, Degeneres shared the news that her dog Kid suffered a broken leg from her other dog Wally. "Over the weekend, our dog Wally was running full-speed across the lawn," she continued. "Our dog Kid happened to be in the way and she just trampled over [him]. So Kid was screaming in pain and we knew his leg was broken. It was awful, awful, awful."
Kid's front leg was wrapped in a cast for 12 weeks and eventually made a full recovery. Degeneres kept the humour intact by adding "And of course, now Kid wants to sue Wally."