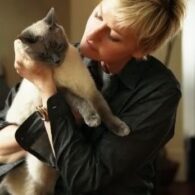 George (Cat)
George is a Siamese who loves to cuddle (both with people and his cat siblings). His celebrity status has been known to attract the likes of wild bobcats, as seen in a tweet from Ellen. Chairman (Cat)
Together with Portia de Rossi, Ellen Degeneres has a cat named Chairman.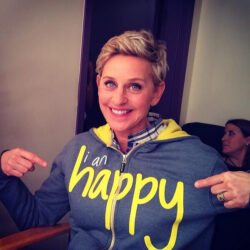 Birthday
January 26, 1958 (65)
Ellen DeGeneres is a prominent American comedian, television host, actress, and producer. She first gained widespread recognition for her stand-up comedy performances in the 1980s and 1990s, eventually earning her own sitcom, "Ellen," which aired from 1994 to 1998.
DeGeneres is also known for her successful talk show, "The Ellen DeGeneres Show," which debuted in 2003 and has since become one of the most popular daytime talk shows on television. Her show has featured numerous celebrity guests, musical performances, and entertaining segments, including the popular "Ellen's Game of Games."
Ellen Degeneres' Career
Throughout her career, DeGeneres has achieved numerous milestones and accomplishments. She has won a total of 30 Emmys, including multiple awards for her stand-up comedy, her daytime talk show, and her role as a judge on "American Idol." She has also hosted several high-profile events, including the Academy Awards and the Primetime Emmy Awards.
DeGeneres is also a successful author and has written several books, including "My Point…And I Do Have One" and "The Funny Thing Is…" She has also ventured into music, releasing the albums "Taste This" and "Ellen's I'm Gonna Make You Dance Jams."
DeGeneres has worked and interviewed countless celebrities, including Oprah Winfrey, Michelle Obama, Jennifer Aniston, Taylor Swift, Justin Bieber, and Kim Kardashian. She has also been involved in various collaborations with brands, such as her clothing line "ED by Ellen" and her partnership with American Express to support small businesses.
In addition to A-List celebrities, The Ellen Degeneres Show has also featured numerous popular influencers. Everyone from beauty vloggers to fitness stars have appeared on the show, such as James Charles, NikkieTutorials, and Jeffree Star. The show has also featured fitness influencers, including Kayla Itsines and Jen Selter. Other notable influencers include food blogger and author, Chrissy Teigen, fashion blogger and author, Leandra Medine, and lifestyle influencers Brooklyn McKnight and Bailey McKnight.
Pet Sibling Drama
In September 2020, Degeneres shared the news that her dog Kid suffered a broken leg from her other dog Wally. "Over the weekend, our dog Wally was running full-speed across the lawn," she continued. "Our dog Kid happened to be in the way and she just trampled over [him]. So Kid was screaming in pain and we knew his leg was broken. It was awful, awful, awful."
Kid's front leg was wrapped in a cast for 12 weeks and eventually made a full recovery. Degeneres kept the humour intact by adding "And of course, now Kid wants to sue Wally."
Halo Purely for Pets
In 2009, Ellen became part owner of the all-natural pet food company Halo Purely for Pets. She and her wife, Portia, have rescued and adopted many cats and dogs together over the years. Ellen often discusses how much she loves animals on her talk show, mentioning that "they are the best companions that you can have". They've become such a popular aspect of Ellen's life and show that she even added them as adorable pins to her website for purchase as well as an entire section of pet accessories.
Daytime talk show hosts and their pets: