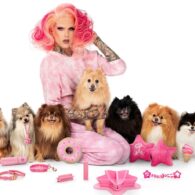 Seven Pomeranians
How many Pomeranians does Jeffree Star have, and what are their names?
Jeffree Star currently has seven Pomeranian dogs named Drama (aka Drama Lynn), Delicious (Star has a neck tattoo of the word "Delicious"), Da Vinci, Donatella, Dominatrix (aka Dommy), and Dessert (Star's late Pom Daddy was her uncle).
The most recent Poms to join his pack was Donnatella in June 2021. And he got Dessert and Dominatrix in April 2020 during the first COVID lockdown.
Jeffree Star's past Pomeranians
Diva passed away in May 2023 at 14 years old due to cancer. Diamond (Star's first Pom) and Daddy (a wolf-sable Pomeranian) both passed away in 2020.
Birthday
November 15, 1985 (37)
Jeffree Star, born Jeffrey Lynn Steininger Jr. is an American YouTuber, entrepreneur, makeup artist, and former singer-songwriter. He is the founder and owner of Jeffree Star Cosmetics.
In 2009, Star released a studio album, Beauty Killer, which included songs such as "Lollipop Luxury" featuring Nicki Minaj. He embarked on several world tours to promote his music. In 2010, he signed to Konvict Muzik but abruptly left the music industry by 2013 citing legal issues the label's owner faced between 2007 and 2010. In November 2014, Star founded the company Jeffree Star Cosmetics. In 2018, Forbes revealed that he had earned $18 million from his YouTube endeavors alone, making him the fifth-highest-paid YouTuber that year.