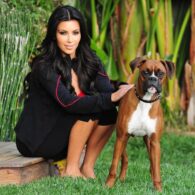 Rocky
When Kim was dating Reggie Bush, Rocky was a boxer puppy they got together in 2010 and named after the classic boxing movie. She was quoted as saying "Rocky is most like me, his mommy. He's really cool and calm and goes with the flow". They apparently had split custody after their breakup, but Rocky hasn't been seen with Kim since.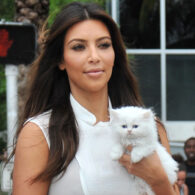 Mercy
Mercy the cat was a gift from Kanye West to Kim in 2012, which Kim named after a song Kanye released at that time. Unfortunately Kim found out she was allergic to Mercy, so she was given to her sister Khloe's assistant who cat had recently passed away. Soon after, Mercy was found unconscious and rushed to an animal hospital.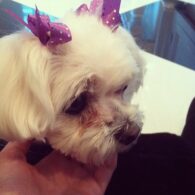 Bella
Bella is a Maltese that had been with the Kardashians for years, but now living with family friend Pastor Brad and his wife. No one is sure why Bella went to go live with Pastor Brad, and the mystery surrounding the Jenner-Kardashian pets seems to grow. We hope you're happy with your new family, Bella!
Kim Kardashian, born October 21, 1980, is a famous reality tv star, socialite, entrepreneur, social media influencer and model. She first started appearing in the media as a friend of Paris Hilton and then received wide public attention when her sex tape was leaked in 2007. This was followed up with the premier of the long-running reality TV series Keeping Up with the Kardashians. The show features her now famous family with sisters Kourtney Kardashian and Khloe Kardashian, mother Kris Jenner, and half-sisters Kendall Jenner and Kylie Jenner. She is also known for her marriage to Kanye West.
From reportedly being the highest paid reality TV star and through a range of business ventures, she is worth an estimated $150 million. This includes her own fashion and beauty brands, often in collaboration with her sisters. She also works as a ambassador for many brands over the years and has published books and mobile apps.