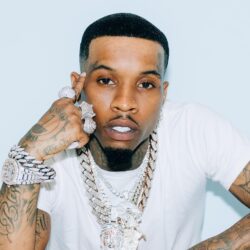 Birthday
July 27, 1992 (31)
Tory Lanez, born as Daystar Peterson, is a versatile Canadian artist who has achieved global recognition in the realms of hip hop, R&B, and reggae fusion, singing and rapping with a style uniquely his own.
Tory Lanez first captured the world's attention with his debut studio album, "I Told You" (2016), which soared to the top of the charts, peaking at number four on the Billboard 200. This album encapsulated his penchant for storytelling, as it narrated his journey from homelessness to the limelight. Its two lead singles, "Say It" and "Luv," went on to become platinum hits, securing Lanez's standing in the industry. His subsequent albums, including "Memories Don't Die" (2018), "Love Me Now?" (2018), and "Chixtape 5" (2019), further solidified his reputation for blending different genres and experimenting with sound, earning him both commercial success and critical acclaim.
In the course of his career, Lanez has collaborated with numerous artists across different genres, creating music that resonates with a wide audience. Early in his career, he teamed up with the likes of Sean Kingston and Meek Mill. He's worked with hip hop heavyweights like Rick Ross and A$AP Ferg, and explored different sounds with EDM artists like Cashmere Cat and RL Grime. His collaborations with popular artists such as Chris Brown, Future, and 50 Cent are particularly noteworthy. Additionally, Lanez's work with Drake, once a rival, became a memorable collaboration.
Despite facing various challenges, Tory Lanez has been recognized for his contributions to music. He's received nominations at the Grammy Awards, BET Awards, and MTV Video Music Awards. His single "Luv" was nominated for Best R&B Song at the 59th Annual Grammy Awards, highlighting his ability to create chart-topping hits. Moreover, "Say It" earned him a MuchMusic Video Award for Best Hip Hop Video.