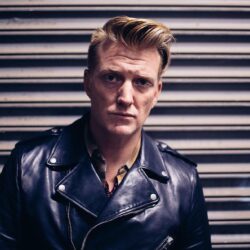 Birthday
May 17, 1973 (50)
Josh Homme is an American musician and songwriter, primarily known for his work as the founder and frontman of the rock band Queens of the Stone Age.
Homme's musical journey began with the formation of the band Kyuss, which played a pivotal role in the development of stoner rock. However, it was with Queens of the Stone Age that he gained widespread recognition. The band's albums, such as "Rated R," "Songs for the Deaf," and "Villains," have received critical acclaim and commercial success.
Over the years, Homme has collaborated with a wide array of artists and musicians. These include Dave Grohl, Trent Reznor, Iggy Pop, Julian Casablancas, Brody Dalle, Mark Lanegan, John Paul Jones, PJ Harvey, Elton John, and Alex Turner.
Homme's work has not gone unnoticed in the industry. He has received several Grammy nominations, particularly for his work with Queens of the Stone Age. The band's album "…Like Clockwork" was nominated for Best Rock Album at the 56th Annual Grammy Awards, and their song "No One Knows" received a nomination for Best Hard Rock Performance in 2003.