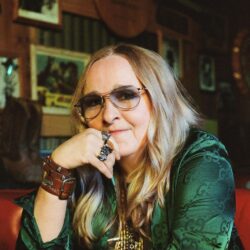 Birthday
May 29, 1961 (62)
Melissa Etheridge is an American singer-songwriter and activist known for her heartfelt lyrics and unique sound, that first captivated audiences with her self-titled debut album in 1988. This album not only showcased Etheridge's ability to craft relatable, emotive songs, but also housed the hit single "Bring Me Some Water," which earned her a Grammy nomination. The release of her fourth album "Yes I Am" in 1993, further solidified her standing in the music industry, with tracks like "I'm the Only One" and "Come to My Window," the latter earning her a Grammy Award for Best Female Rock Vocal Performance.
Collaborations have been a notable aspect of Etheridge's career, providing audiences with memorable musical moments. Her live performance with Bruce Springsteen on "Thunder Road" displayed a harmonious blending of their distinct sound. She also collaborated with Jewel on "You Can Sleep While I Drive," and with Dolly Parton on "The Weakness in Me." Other notable collaborations include performances with Steven Tyler, Cher, Joss Stone, Bonnie Raitt, and Linda Perry. Additionally, her tribute to Janis Joplin alongside the legend herself on "Piece of My Heart" was a notable moment in her collaborative journey.
Melissa Etheridge's award shelf showcases a Grammy Award for Best Female Rock Vocal Performance for "Ain't It Heavy," another Grammy for "Come to My Window," and an Academy Award for Best Original Song for "I Need to Wake Up," featured in the documentary "An Inconvenient Truth." Her guitar skills were also acknowledged with the Gibson Guitar Award for Best Rock Guitarist: Female.