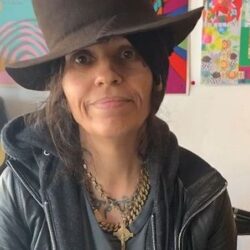 Birthday
April 15, 1965 (58)
Linda Perry is an American musician, songwriter, and record producer, best known for her work as the lead singer and primary songwriter of the rock band 4 Non Blondes.
Perry's rise to fame was meteoric following the release of 4 Non Blondes' debut album, "Bigger, Better, Faster, More!" in 1992. The album's hit single "What's Up?" climbed the charts and became a global anthem. However, Perry's career didn't stop with 4 Non Blondes. She has thrived in the music industry, often behind the scenes as a songwriter and producer. She has written chart-topping songs for artists like Christina Aguilera, including the hit "Beautiful," and produced albums for artists such as Gwen Stefani and Alicia Keys.
When it comes to collaborations, Perry has been an indispensable force in the music industry. For instance, she worked with Pink on her sophomore album, "Missundaztood," which helped cement Pink's status as a force to be reckoned with. With Christina Aguilera, she collaborated not just on "Beautiful," but also on other songs that made it to Aguilera's album "Stripped." She has also worked with Alicia Keys, Gwen Stefani, Adam Lambert, Courtney Love, James Blunt, Natalie Maines, Martie Maguire, Emily Robison, Robin Lynn Macy, and Laura Lynch of the Dixie Chicks, and Celine Dion. Even the legendary Dolly Parton has praised Perry for her production skills. In the world of television, Perry collaborated with Sara Gilbert to write the theme song for "The Conners."
Throughout her career, Perry has received numerous recognitions. She's been nominated for Grammy Awards, particularly for her songwriting prowess. Notably, "Beautiful," written for Christina Aguilera, won a Grammy for Song of the Year in 2004. She's also received the Legend Award from the L.A. Gay and Lesbian Center in 2007, honoring her contributions to the LGBTQ+ community. Moreover, Perry was inducted into the Songwriters Hall of Fame in 2015.