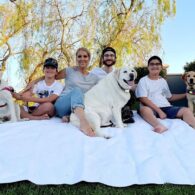 Charlie
Celine Dion's dog Charlie is a yellow lab. Her and her brother Bear joined Celine on tour throughout the states, but she refused to quarantine them for the global stops on her world tour so she sent the pups home to her three boys. "We got her when she was 7 weeks old," said Celine Dion. "[We are] so in love with Charlie. I have to say, 'Stop with the treats! She's going to be huge!' We love Charlie extremely." Lionel
Lionel was a pet rat owned by Celine Dion's son. He was a gift for his ninth birthday, so we are assuming that Lionel has since passed, though he could still be around. The rat was named after the rat in Disney's Cory in the House. "He's got two homes, this rat," said Celine Dion. One was his regular cage and the other was his deluxe home, which features a wheel and slides. "I said, 'If I have to be a rat, I want that playground.' It's amazing!"
Birthday
March 30, 1968 (55)
Céline Marie Claudette Dion is also known as the Queen of Pop, Queen Celine, or simple, Celine Dion. She was born 30 March 1968 and, in simple terms, is a Canadian singer. Celine Dion is famous for her powerful and technically skilled vocals. She is the best-selling Canadian recording artist and French language artist of all time. Her music has incorporated genres such as pop, rock, R&B, gospel and classical music. Celine has won a litany of awards, including five Grammy Awards, Album of the Year and Record of the Year.
Celine Dion Music
Dion is one of the best-selling music artists of all time, with record sales of more than 200 million worldwide. While her releases have often received mixed critical reception, Dion is regarded as one of pop music's most successful vocalists.
Billboard named her the "Queen of Adult Contemporary" for having the most number-one songs on the radio format for a female artist. Dion is the second best-selling female artist in the US during the Nielsen SoundScan, the 8th all-time best-performing top female artist in the United States, and the sixth all-time best-performing female soloist in Billboard 200 history. In 2003, she was honoured by the International Federation of the Phonographic Industry (IFPI) for selling over 50 million albums in Europe. In 2008, Dion was recognized as the Best-selling International Artist in South Africa.
She has sung duets with a number of people, including the likes of musical master Luciano Pavarotti to R&B stars like R. Kelly and Ne-yo. And, she has worked on song collaborations for charities, like Come Together Now that also features John Legend, The Game, JoJo, Nick Carter and AJ McLean from Backstreet Boys, Chingy and Wyclef Jean.
One of her most popular songs, "My Heart Will Go On" was recorded by Celine Dion for Titanic. Directed by James Cameron and starring Leonardo DiCaprio and Kate Winslet, Titanic became one of the biggest films in movie history. The single ended up becoming a hit, and even today, the song still hits hard. The song's music was composed by James Horner, its lyrics were written by Will Jennings.
The Dion and Angélil Family
Celine Dion married René Angélil (her former manager) in 1994, who tragically passed away from cancer on January 14, 2016. She and her husband had three sons, René-Charles, and twins, Eddy and Nelson. Eddy was named after producer Eddy Marnay, who had produced Celine's first five albums. Nelson is named after Nelson Mandela, the famed revolutionary, peace activist and former South African president, also mentor to Toronto Raptors' president, Masai Ujiri.
Social Media
Celine has more recently become the focus of adoration among fans on popular social media platforms such as TikTok. Viral videos of fans lip-syncing to Celine Dion songs — notably It's All Coming Back to Me — in homemade costumes swept TikTok for many weeks creating enough attention for her to personally respond to many of her admirers. The original Celine Dion TikTok by Jakey Breaky Heart can be found here.