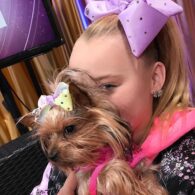 BowBow
Jojo Siwa has a Teacup Yorkie dog named BowBow that she got in January 2016. Jojo fans know she loves wearing bows, so we can guess that's what inspired this pup's name. BowBow used to have an Instagram account @itsbowbowsiwa with over a million followers, but she deactivated it in July 2020. But if you miss her Instagram, you can buy a BowBow stuffie on Amazon to make up for it.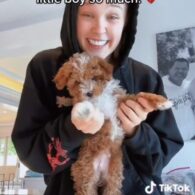 Tooie (O2)
Jojo Siwa got a cute Poodle Mix puppy named Tooie (also known as O2) in March 2023. At the end of April 2023, Tooie tragically passed away due to an accident.
2 months ago our puppy Tooie (O2) joined our family and he brought the MOST joy, laughter, and messes into our life. My heart hurts so much to say that this morning he was involved in an accident and is now in puppy heaven. I cant even explain how perfect of a dog O2 was. Going to miss him more than words can explain. Thank you for bringing light to my life when it was dark tooie boy. See you one day. rest in peace my lil sweet boy😭💔

@itsjojosiwa, TikTok, April 2023 Coco and Lulu
When Jojo Siwa was growing up, she used to have two dogs named Coco and Lulu.
Joelle Joanie "JoJo" Siwa is an American dancer, singer, YouTube personality, and actress. JoJo Siwa is a multitalented performer who has been captivating audiences since her breakout role on the reality television show "Dance Moms." In 2018, she released her debut single "Boomerang," which quickly became a viral sensation. Since then, she has released numerous other hits, including "Kid in a Candy Store" and "D.R.E.A.M." Her music has earned her a significant following, with millions of fans tuning in to watch her music videos and live performances.
JoJo Siwa's D.R.E.A.M. tour was a massive success. The tour featured a high-energy mix of music, dance, and theatrical production that left fans of all ages in awe. Siwa was joined on stage by a number of up-and-coming performers, including the dance troupe The Belles and the hip-hop group The Lab. The tour also featured appearances by fellow young stars such as singer and actor Carson Lueders, actress and social media influencer Savannah May, and YouTube personality and dancer Tisha Custodio.
In addition to her music career, Siwa has also appeared in a variety of television shows and films. She has made guest appearances on shows such as "The Thundermans" and "School of Rock," and has even voiced a character in the animated film "The Angry Birds Movie 2."
Perhaps one of the most significant milestones in Siwa's career was her participation in the hit reality competition series "Dancing with the Stars" in 2021. As the show's first-ever contestant to be paired with a same-sex partner, Siwa made history and helped to break down barriers for LGBTQ+ representation on television.
Siwa's talent and hard work have earned her collaborations with some of the biggest names in the entertainment industry. She has worked with the likes of Justin Bieber, Meghan Trainor, and Miranda Sings as well as up-and-coming artists like Hayley LeBlanc, Sophie Fergi, and Nicole Laeno.
Beyond her work in entertainment, Siwa is also an advocate for animals and has used her platform to raise awareness about animal welfare issues. She has worked with organizations such as the American Society for the Prevention of Cruelty to Animals (ASPCA) and has even started her own non-profit organization, D.R.E.A.M. The Impossible, which aims to inspire young people to pursue their dreams and make a positive impact on the world.