 No Pets (Eddie Bravo)
Eddie Bravo does not have any reported pets.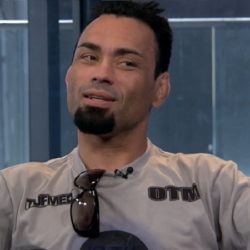 Birthday
May 15, 1970 (53)
Eddie Bravo is an American martial artist, instructor, and entrepreneur, best known for his work in Brazilian Jiu-Jitsu and his founding of 10th Planet Jiu-Jitsu. Initially gaining attention for his unique and unorthodox grappling techniques, Bravo has become an influential figure in the sport, contributing a myriad of new moves and training methods that have revolutionized the way Brazilian Jiu-Jitsu is practiced and taught.
Eddie Bravo has authored several books on Brazilian Jiu-Jitsu, including "Mastering the Rubber Guard" and "Mastering the Twister," which have become essential reads for aspiring grapplers. Furthermore, Bravo is an accomplished commentator for MMA events and has appeared on numerous podcasts and television shows to discuss martial arts, conspiracy theories, and a range of other topics.
Over the years, Bravo has collaborated with a variety of individuals across different fields. In the world of martial arts, he has worked with Joe Rogan, Royler Gracie, Jean Jacques Machado, and Bas Rutten. He has appeared on podcasts and shows hosted by Alex Jones, Aubrey Marcus, Joey Diaz, and Sam Tripoli. He's also brushed shoulders with musicians like Maynard James Keenan and Suga Free, bringing a taste of his martial artistry into the world of music and entertainment.
Bravo is particularly famous for defeating Royler Gracie in a 2003 competition, a win that propelled him into the limelight and marked a pivotal moment in his career. He's been inducted into the Masters Hall of Fame for his contributions to martial arts.