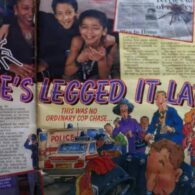 Charlotte the Tarantula
Kingsley Ben-Adir has no current publicly known pets. But as a kid, he had a pet Goliath Birdeater Tarantula. It's a type of spider that eats birds and is considered rarer compared to types of Tarantulas that are typically kept as pets. When interviewed by Graham Norton, Ben-Adir told a crazy story about how when he was 6 or 7 years old, his pet spider escaped. The story ended up being featured in several newspapers and magazines, with an example pictured here.
Some member of the public saw the bird-eating spider, which is the size of my hand, and called the police and the police have called more police – and more police have called the fire brigade and the fire brigade have called London Zoo. They've taken it to London Zoo and me and my Mum collected it the next morning – but it made the front page of the Camden New Journal.

@ Kingsley Ben-Adir, The Graham Norton Show, March 2021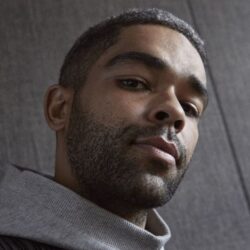 Birthday
February 28, 1986 (37)
Kingsley Ben-Adir is a British actor best known for roles such as Colonel Ben Younger in the historical drama Peaky Blinders. He also played private detective Karim Washington in the Netflix series The OA. Ben-Adir made a significant impression with his portrayal of Malcolm X in One Night in Miami, and his performance as Barack Obama in The Comey Rule further validated his knack for embodying historical figures. He plays a version of Ken in Barbie (2023), which stars Ryan Gosling and Margot Robbie.
Over the years, Ben-Adir has worked alongside several influential personalities in the industry. In Peaky Blinders, he shared screen time with Cillian Murphy and Helen McCrory. While working on The OA, he collaborated with Brit Marling and Emory Cohen. In the critically acclaimed One Night in Miami, he teamed up with Regina King, Aldis Hodge, Leslie Odom Jr., and Eli Goree.
Recognition of Ben-Adir's compelling performances is reflected in the awards and nominations he has received. His performance in One Night in Miami led to a nomination for the British Independent Film Award for Best Actor. He also earned a Critics' Choice Television Award nomination for Best Actor in a Movie/Miniseries for his role in The Comey Rule. These commendations underscore Ben-Adir's significant contribution to contemporary film and television.