 No Pets (Tobias Forge)
Tobias Forge does not have any reported pets. In a past interview, Tobias mentioned he was bitten by a dog as a young kid and has not been quick to adopt a furry sidekick of his own since.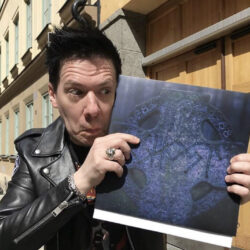 Birthday
March 3, 1981 (42)
Tobias Forge is a Swedish musician, singer, songwriter, and producer who is best known as the founder and frontman of the heavy metal band Ghost. Forge's music is characterized by its theatricality and dramatic flair, incorporating elements of classic rock, metal, and pop into a unique sound that has earned him critical acclaim and a devoted fan base around the world.
Forge's musical career began in the late 1990s when he formed the death metal band Repugnant with a group of friends. However, it wasn't until he formed Ghost in 2008 that he achieved mainstream success. Ghost's debut album, Opus Eponymous, was released in 2010 and was immediately hailed as a masterpiece of modern metal. The album spawned several hit singles, including "Ritual," "Elizabeth," and "Stand By Him," and established Forge as a rising star in the music world.
Since then, Forge has gone on to release several more albums with Ghost, including Infestissumam (2013), Meliora (2015), and Prequelle (2018), all of which have received critical acclaim and commercial success. In addition to his work with Ghost, Forge has collaborated with several other artists and musicians, including Candlemass, Marissa Nadler, and MCC (Magnus Carlson & the Moon Ray Quintet).