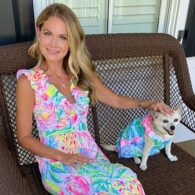 Elvis (Dog)
Cameran Eubanks adopted a Chihuahua named Elvis from a neighbor in August 2019, with the pup 16 years old at the time. Prior to taking him in, Eubanks and her family were good friends with both Elvis and his humans. So when Elvis' humans had to move, Eubanks suggested Elvis enjoy his golden years with her. Elvis had one and a half happy years with his new family before passing away in January 2021. And judging by the video below, they had a blast together!
Elvis went to heaven yesterday. Thank you all for loving him. He was a special little guy who brought joy to so many people. Jason wanted to bury him under a magnolia tree in the country…I'm sure it will be the most Beautiful tree. The Pastor who married us and Christened Palmer said some beautiful words. He said God gave us animals and we will be with them again.

@camwimberly1, Instagram, Janaury 2021
Cameran Eubanks is an American reality TV star primarily recognized for her candid and relatable persona on Bravo TV's Southern Charm.
Before her stint on Southern Charm, Cameran first entered the reality TV scene as a cast member on MTV's The Real World: San Diego in 2004. This provided her with a stepping stone into the world of entertainment, laying the foundation for her later roles. Her genuine demeanor and authentic reactions garnered attention, setting her apart as a refreshing presence amid the often dramatized world of reality TV. Following her time on The Real World, she made appearances in spin-off shows like The Challenge.
Within the social circles of Charleston showcased in Southern Charm, Cameran developed relationships and interactions with several prominent figures. Her camaraderie and sometimes disagreements with Kathryn Dennis, Shep Rose, Thomas Ravenel, Patricia Altschul, Craig Conover, and Austen Kroll offered viewers an inside look into the complexities of Southern social dynamics.