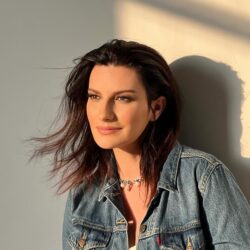 Birthday
May 16, 1974 (49)
Laura Pausini is an Italian singer-songwriter, globally recognized for her emotive delivery and powerful vocal prowess, which were first showcased in her debut single "La Solitudine" in 1993. This single not only marked her entry into the music arena but also set the tone for a successful career in both Italian and Latin pop music.
Her musical journey is punctuated with numerous albums that resonated well with audiences, notably "Laura Pausini" (1993), "La Mia Risposta" (1998), and "From the Inside" (2002). Each album showed her gradual yet impactful imprint in the pop and Latin music genres, and also her ability to connect with audiences in multiple languages including Italian, Spanish, and English. Her 2018 album "Fatti Sentire" further showcased her enduring presence in the music industry over the decades.
Pausini's career is also notable for her collaborations with other eminent individuals in the music and entertainment domain. She worked alongside artists such as Michael Bublé in "You'll Never Find Another Love Like Mine", James Blunt in "Primavera in Anticipo", and Alejandro Sanz in "Víveme". Other collaborations include Andrea Bocelli, Charles Aznavour, Kylie Minogue, Marc Anthony, and Luciano Pavarotti, showcasing a vast network of notable individuals appreciating the melody and emotion she brings into her work.
The milestones in her illustrious career include numerous awards that are testimony to her exceptional musical talent. Pausini is a recipient of a Grammy Award, four Latin Grammy Awards, and a Golden Globe nomination among other honors. For instance, her album "Escucha" won a Latin Grammy Award for Best Female Pop Vocal Album in 2005, and she bagged a Grammy Award for Best Latin Pop Album for her album "Laura Pausini" in 2006.