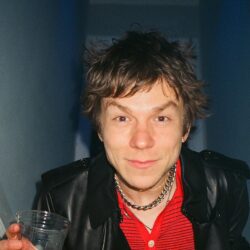 Birthday
October 23, 1983 (39)
Matt Shultz, best known as the dynamic frontman of the Grammy-nominated rock band Cage the Elephant, has cemented his status in the music industry with his captivating performances and eclectic musical style. Born in Bowling Green, Kentucky, he is an influential figure in the alternative and indie rock scenes, characterized by his electrifying stage presence and distinctive vocals.
Since co-founding Cage the Elephant with his brother Brad in 2006, Shultz's creative vision has steered the band to critical and commercial success. Their self-titled debut album spawned the hit single "Ain't No Rest for the Wicked," catapulting them to international fame. Successive albums, notably "Melophobia" and "Tell Me I'm Pretty," underscored their evolution as artists, demonstrating a richly diverse musical repertoire spanning punk, blues, and psychedelic rock.
Throughout his dynamic career, Shultz has synergized his talents with several distinguished musicians, expanding his creative horizons. Notably, he worked with Dan Auerbach from The Black Keys, who played a crucial role in producing Cage the Elephant's Grammy-winning album, "Tell Me I'm Pretty." Additionally, he joined forces with the innovative Beck to create the hit song "Night Running," reflecting Shultz's adaptable musical aptitude. Beyond the studio, Shultz has shared the stage with renowned musicians such as James Hetfield of Metallica, Dave Grohl from Foo Fighters, and Matthew Bellamy from Muse, during various celebrated music festivals.
Throughout his career, Shultz has earned several distinctions that testify to his artistic talent. In 2017, "Tell Me I'm Pretty" won the Grammy Award for Best Rock Album, marking a high point in his career. Moreover, Cage the Elephant's album "Social Cues" was also acknowledged by the Grammy Awards, with the track "Ready to Let Go" attaining significant radio play and chart success.