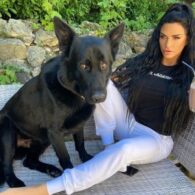 Blade
Katie Price had a black German Shepherd guard dog named Blade that died in June 2023 after being hit by a car. It was reported by the Grove Lodge Veterinary Group that a Shepherd dog without a microchip, but wearing a brown Louis Vuitton collar, was found deceased.
Words can't express the lost of my best friend my protector my absolutely everything who had sadly passed away today I have no words to say how I'm feeling but numb and shocked rip Blade.

@katieprice, Instagram, June 2023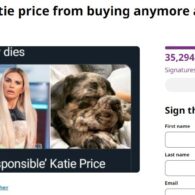 Change.org Petition to ban Katie Price from buying animals
In July 2020, after public outcry over the increasing number of Katie Price's pets dying in accidents or due to neglect, a Change.org petition was started to "Ban Katie price from buying anymore animals". It reached over 35,000 signatures.
A puppy has died in the last 24 hours in Katie prices care she bought this puppy for her 13 year old child 3 weeks ago. Which was killed in a accident no one witnessed. In the last 5 years more animals have died from lack of care. Horses. dogs.cats lizards hedgehogs. This isn't a single family tragedy. It's a common thing in  Katie price home. 2 dogs have been ran over. Puppies were found dead drowning in a neglected swimming pool. A horse was run over on a motorway. Animals just go missing in her home never to been seen again. Her guard dog broke into her neighbours garden an killed their  chickens. A dog trained to attack people. Also ripped her cat apart. The neglect seen on her show my crazy life. Cat poo with mold growing on it. Dog poo just left on the floor. Clothes dumped all over the place. Alger growing in her pool where her puppy drowned. She jokes about her mucky mansion. But it ain't a joke that animals are dying from her lack of care. Being left alone to meet untimely deaths an nobody is saying enough is enough an carry on selling her animals. 3 weeks a bull dog puppy named rola was in her care. Nobody knows including her how it died. We need to stop this now no more animals need to die 

Ban Katie price from buying anymore animals Petition, July 2020 Tank
In August 2023, Katie Price got yet another German Shepherd, which she named Tank… Our thoughts and prayers are with Tank.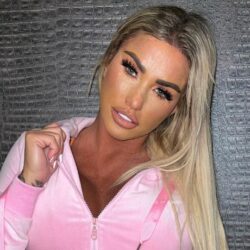 Birthday
May 22, 1978 (45)
Katie Price is an English media personality, former model, businesswoman, and author who has made a significant impact in the realms of reality television and the publishing industry. Her larger-than-life persona and candor have earned her considerable attention, making her a fixture in the UK's media landscape.
Price's career took flight in the late 1990s when she began modeling under the pseudonym "Jordan". However, it was her appearance on the reality television show I'm a Celebrity…Get Me Out of Here! in 2004 that catapulted her to stardom. Further cementing her place in the realm of reality TV, Price went on to star in several of her own reality shows, including Katie Price: My Crazy Life and Katie Price's Pony Club. Additionally, her frequent appearances on talk shows and panel shows like Loose Women have kept her in the public eye.
Over the years, Katie Price has collaborated with numerous celebrities and famous personalities, be it through joint TV appearances, personal relationships, or business endeavors. Her high-profile relationships with individuals such as Peter Andre, Alex Reid, and Kieran Hayler were all extensively covered in the media. These relationships not only increased her visibility but also led to joint television projects, like Katie & Peter, a fly-on-the-wall reality series. She has also collaborated professionally with individuals like Dwight Yorke, Leandro Penna, and Kris Boyson.
Throughout her career, Price has received several honors and recognitions. In 2007, she was nominated for a National Television Award for Most Popular Reality Television Star for her role in Katie & Peter. As an author, Price has made a significant mark, with several of her novels reaching The Sunday Times Best Seller list. Her debut novel, Angel, was a commercial success, and her autobiographical book, Being Jordan, remains popular among readers. Additionally, she received an Honorary Gold Award at the House of Commons for her tire-felt services to the Armed Forces in 2012.
Beyond her media persona and professional endeavors, Price is recognized for her deep love for animals, particularly horses. She has long been an equestrian enthusiast, a passion she shared in Katie Price's Pony Club, a reality show where her children and their friends learned about horse care and riding. Over the years, she has been associated with several animal-related charities, lending her time and resources to these causes.