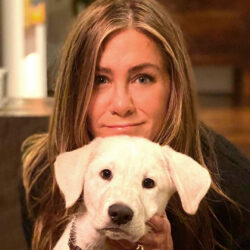 Birthday
February 11, 1969 (54)
Jennifer Aniston is an American actress, producer, and businesswoman. She is one of the highest paid actresses in Hollywood. Her breakthrough role as Rachel Green in the wildly popular TV series Friends (1994 – 2004) led to a Primetime Emmy Award, a Golden Globe, and a Screen Actors Guild Award. On Friends, Rachel and Ross (David Schwimmer) were a popular couple amongst audiences, and often voted TV's favourite couple in polls.
Aniston has also played the female protagonist in numerous box office hits. She starred in highly grossing comedies which include Bruce Almighty (2003) alongside Jim Carrey, The Break-Up (2006) with Vince Vaughn, Marley & Me (2008), Just Go With It (2011), Horrible Bosses (2011) with Charlie Day and Jason Bateman and We're the Millers (2013) with Jason Sudeikis. She was nominated for a Golden Globe Award and the Screen Actors Guild Award for Best Actress for her role in Cake (2014). Other critically acclaimed films Aniston has are Friends with Money (2006) and The Good Girl (2002). She's also starred in Along Came Polly (2004) with Ben Stiller and He's Just Not That Into You (2009) with Ben Affleck.
In 2012, she received a Star on the Hollywood Walk of Fame and has been included in several high profile magazines for variations of "The Most Beautiful Woman". She was married to actor Brad Pitt from 2000 to 2005 when the couple split. Aniston later married to American actor and screenwriter, Justin Theroux. On February 15, 2018, Theroux and Aniston announced they had separated at the end of 2017.