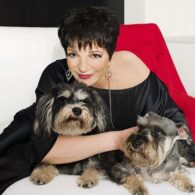 Blaze and Friends
Known for her love of Miniature Schnauzers, Liza Minnelli had three back in 2014. The Oscar-winning actress suffered a fall at home due to her enthusiastic pets, leading to a broken lower back. While lifting her dogs, she twisted and fell. Initially downplaying the incident, an X-ray confirmed the seriousness of her condition. Speaking to the New York Post's Page Six, Liza disclosed that spinal fusion surgery was necessary. The accident made her miss her friend Joan Rivers' funeral, leaving her deeply disappointed and bedridden.
In January 2022, one of the Schnauzers, Blaze, passed away.
Liza Minnelli is an American actress and singer, distinguished for her breakout role in the musical film "Cabaret."
Emerging as a compelling force in the entertainment industry, Minnelli's work spans across multiple domains—films, television series, and stage performances. Her role as Sally Bowles in "Cabaret" (1972) swept audiences off their feet, while her portrayal in "New York, New York" (1977) alongside Robert De Niro. She has also had appearances in television shows like "Arrested Development," where she played Lucille Austero, and has released multiple albums, including the influential "Liza with a 'Z'."
Minnelli has worked with a plethora of artists and celebrities. On the big screen, she starred with Dudley Moore in "Arthur" and Michael York in "Cabaret." She has collaborated with Frank Sinatra and Sammy Davis Jr. Stage collaborations include a special performance with Chita Rivera in the Broadway show "The Rink." Her television appearances also feature collaborations with Jason Bateman in "Arrested Development," Neil Patrick Harris in "Liza's at the Palace," and Alan Cumming in the TV special "Liza & Alan." She's also been directed by legendary filmmakers like Bob Fosse and Martin Scorsese. Additionally, she has frequently collaborated with her choreographer Ron Lewis and her musical conductor Billy Stritch.
Minnelli has been honored with a myriad of recognitions that mark her success in the entertainment industry. She won an Academy Award for Best Actress for her role in "Cabaret," and has received four Tony Awards for her contributions to theater, including her performances in "Flora the Red Menace" and "The Act." She is also a two-time Golden Globe winner and has received an Emmy for the TV concert "Liza with a 'Z'." Not to be left out, she holds a special Grammy Legend Award.