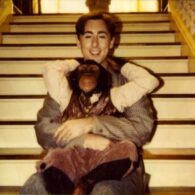 Tonka (Chimpanzee)
Tonka mysteriously disappeared in April 2022 and Alan Cumming teamed up with PETA in order to find the his former costar Chimpanzee. Tonka starred together in the 1997 family comedy, Buddy, which is based on the true-life story of Gertrude Lintz, a 1920s socialite who raised monkeys as part of her family. They have offered a $10,000 reward to find Tonka.
Birthday
January 27, 1965 (58)
Alan Cumming OBE FRSE is a Scottish actor. His London stage appearances include Hamlet, the Maniac in Accidental Death of an Anarchist (for which he received an Olivier Award), the lead in Bent, The National Theatre of Scotland's The Bacchae and Samuel Beckett's Endgame at The Old Vic opposite Daniel Radcliffe. On Broadway, he has appeared in The Threepenny Opera, as the master of ceremonies in Cabaret (for which he won a Tony Award), Design for Living, and a one-man adaptation of Macbeth.