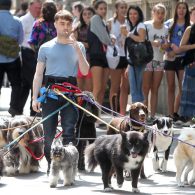 Binka and Nugget
Daniel Radcliffe has two border terriers named Binka and Nugget. He's pretty private about his life and doesn't have public social media accounts, so we haven't seen any pics of his two dogs. On a Reddit AMA when asked if he was a dog or cat person, he replied "Dog. Very, very firmly in the dog camp here.". In 2014 he did have a photo of him go viral, which showed him walking a pack of dogs while having a cigarette. It was later confirmed he didn't own those dogs or had a side job as a dog walker. The photo was taken on the set of Judd Apatow's Trainwreck, starring Amy Schumer.
Daniel Radcliffe is often referred to as Harry Potter following his role in Harry Potter. He is known to be a dog person but is also very private about his personal life. He gained international attention and acclaim for his role in the Harry Potter series. Radcliffe has won numerous awards and nominations, notable the Hero Award in 2011 from The Trevor Project.
Daniel Radcliffe's iconic dog-walking and smoking photo
Have you seen Daniel Radcliffe's 2014 viral photo? He's walking a dozen dogs near NYC's Bryant Park while smoking a cigarette. The photo's a far cry from the fresh-faced Harry Potter he played as a child. It's got Macauley-Culkin-in-a-pizza-death-metal-band vibes and is truly hilarious. The gossip mill immediately went crazy once the photo was up, hypothesizing why the boy wizard had a horde of hounds attached to his belt.
The real answer is due to Daniel Radcliffe's cameo in Judd Apatow's film Trainwreck starring Amy Schumer. Radcliffe plays a bit character — a dog walker, obviously — and, in our humble opinion, steals the show.
Daniel Radcliffe Career and History
Daniel Jacob Radcliffe is an English actor born July 23, 1989. He's best known for starring as Harry Potter in the film series based on the Happy Potter novels by J.K. Rowling. Mainly thanks to the massive success of the 8 Harry Potter films, he has an estimated net worth of $100 million. He started his acting career at the age of 10, with a role in the TV movie David Copperfield. His first feature film role was in 2001's The Tailor of Panama.
In 2001, Daniel Radcliffe was cast in his iconic role as Harry Potter at 11-years-old. Author J.K. Rowling was looking for an unknown British actor to play the lead. Director Chris Columbus saw Daniel Radcliffe in David Copperfield and thought he was perfect for Harry Potter. With the book already a huge success, the first movie was also expected to be a hit, which earned Radcliffe a 7-figure salary to start.
Radcliffe and Emma Watson
Titled Harry Potter and the Philosopher's (Sorcerer's) Stone, it launched the career of then 11-year-old Emma Watson. Daniel Radcliffe continued to play the role of Harry Potter and Watson as Hermione Granger, for a decade with the final and 8th movie released in 2011. The ticket sales of the 8 film series is estimated at over $7.7 billion. During filming, Radcliffe admitted to having a crush on Watson.