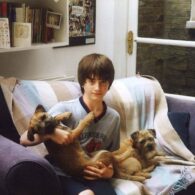 Binka and Nugget
Daniel Radcliffe previously had two pet dogs named Binka and Nugget that were both border terriers. Radcliffe had them when he was a teen filming the Harry Potter series. There was a tabloid rumor going around about Binka and Nugget in 2008 that Radcliffe had hired two former SAS military guards to protect them from his stalker. Radcliffe later told the New York Times that having a stalker and hiring military guards for his dogs were both untrue.
On a Reddit AMA when asked if he was a dog or cat person, he replied "Dog. Very, very firmly in the dog camp here.".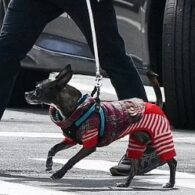 Rescue Dog
Daniel Radcliffe currently has one rescue dog he adopted with his long-time partner Erin Darke. Radcliffe and Darke are very private and haven't posted anything public about their dog or its name. The couple is often seen walking their dog around their hometown of New York City.
Radcliffe once told a story on The Graham Norton Show of how he and a dog he was fostering were mistaken for being homeless: "I was on the street with this dog and my girlfriend was in the shop and so, I was very cold. I got my hoodie, and my fleece, and my fleece hoodie and then a big coat over that, and the dog was really cold. So I'll just kneel by you and like stroke you and try and keep you warm. And then I saw this guy like look up at me like 10 yards away and smiled. I was like "yeah" and just carried on. And then he walked past me and he came back, about five steps passed me, then just reappeared with a $5 bill over my shoulder and just went "Get yourself a coffee, mate"."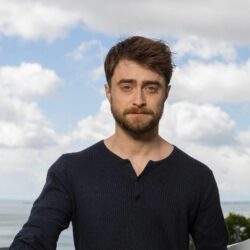 Birthday
July 23, 1989 (33)
Daniel Radcliffe is often referred to as Harry Potter following his role in Harry Potter. He is known to be a dog person but is also very private about his personal life. He gained international attention and acclaim for his role in the Harry Potter series. Radcliffe has won numerous awards and nominations, notable the Hero Award in 2011 from The Trevor Project. In 2022, he starred in the satirical biopic "Weird: The Al Yankovic Story", as Weird Al Yankovic, the acclaimed parody musician and singer. He has been in a relationship with actress Erin Darke since 2012.
How many dogs does Daniel Radcliffe have?
Daniel Radcliffe only has one dog, but many people wonder how many dogs he has due to a viral photo of him walking a dozen dogs near NYC's Bryant Park while smoking a cigarette. The photo's a far cry from the fresh-faced Harry Potter he played as a child. It's got Macauley-Culkin-in-a-pizza-death-metal-band vibes and is truly hilarious. The gossip mill immediately went crazy once the photo was up, hypothesizing why the boy wizard had a horde of hounds attached to his belt.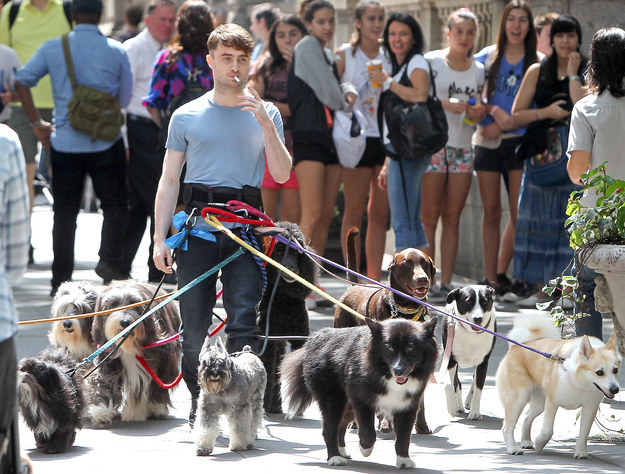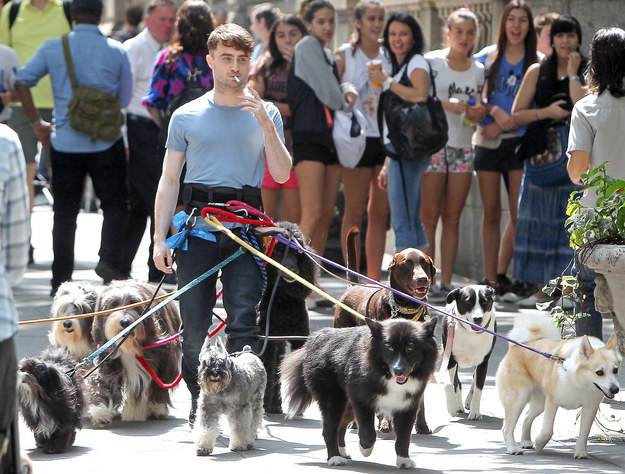 The real answer is due to Daniel Radcliffe's cameo in Judd Apatow's film Trainwreck starring Amy Schumer. Radcliffe plays a bit character — a dog walker, obviously — and, in our humble opinion, steals the show.
Daniel Radcliffe Philanthropy and Animal Welfare
He has supported various organizations such as The Humane Society of the United States, PETA, and Demelza Hospice Care for Children, which provides end-of-life care for terminally ill children, and works to improve the lives of animals. In 2009, he narrated a documentary titled "One Voice," which focused on the inhumane treatment of animals in the food industry. Radcliffe has also been a longtime supporter of Broadway Barks, an annual animal adoption event in New York City that aims to find homes for shelter animals. Beyond his advocacy for animal rights, Radcliffe has also been involved in philanthropic efforts related to mental health and literacy.
Daniel Radcliffe Career and History
Daniel Jacob Radcliffe is an English actor born July 23, 1989. He's best known for starring as Harry Potter in the film series based on the Harry Potter novels by J.K. Rowling. He started his acting career at the age of 10, with a role in the TV movie David Copperfield. His first feature film role was in 2001's The Tailor of Panama.
In 2001, Daniel Radcliffe was cast in his iconic role as Harry Potter at 11-years-old. Author J.K. Rowling was looking for an unknown British actor to play the lead. Director Chris Columbus saw Daniel Radcliffe in David Copperfield and thought he was perfect for Harry Potter. With the book already a huge success, the first movie was also expected to be a hit, which earned Radcliffe a 7-figure salary to start. The series became breakout roles for other actors in the series as well including Rupert Grint, Tom Felton, and Bonnie Wright.
Radcliffe and Emma Watson
Titled Harry Potter and the Philosopher's (Sorcerer's) Stone, it launched the career of then 11-year-old Emma Watson. Daniel Radcliffe continued to play the role of Harry Potter and Watson as Hermione Granger, for a decade with the final and 8th movie released in 2011. The ticket sales of the 8 film series is estimated at over $7.7 billion. During filming, Radcliffe admitted to having a crush on Watson.