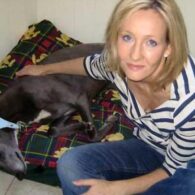 Sapphire (Dog)
J.K. Rowling adopted Sapphire the greyhound from the Greyhound Rescue Fife in Scotland. Rowling and her family (including Butch her jack russell) visited the rescue together and immediately loved Sapphire. Rowling also gave a little extra love to the rescue as well, leaving a $1,000 adoption fee instead of the standard $30. Sapphire made headlines in February 2016 for taking the blame for Rowling falling behind in her writing, because the greyhound couldn't decide what side of the door she wanted to be on.
Bronte (Dog)
Bronte is Rowling's white highland terrier and the newest furry member of her family. Originally named after author Ann Bronte, her daughter says the name is short for the dinosaur "brontosaurus". Rowling's production company is also named Bronte Film & TV after the pooch. He made headlines in February 2017 when he received a 13/10 rating from We Rate Dogs. Rowling tweeted this honor helped her deal with her writer's block.
Birthday
July 31, 1965 (58)
Joanne "Jo" Rowling, better known as her pen name J.K. Rowling, is an English author. She is best known for her Harry Potter series of books and films, which have earned her a massive $1 billion estimated net worth. She also writes under the pen name Robert Galbraith for her more adult novels.
She originally worked as a researcher and secretary for Amnesty International in the early 1990s, where she came up with the idea for the Harry Potter series. Over the next seven years she lived in relative poverty, dealing with her mother's death, her first child and a divorce. In 1997 she published Harry Potter and the Philosopher's Stone, followed up by six sequels over the next decade. She sold over 400 million copies of her books, making it the bestselling book series of all time. The series also resulted in eight blockbuster film adaptations starring Daniel Radcliffe and Emma Watson, which generated over $8.5 billion at the box office.
She is also well known for her philanthropy, using 100s of millions of dollars establishing her own charities and helping non-profits. In 2012 she was noted by Forbes for dropping off its annual billionaire list, because she gave away an estimated $160 million. It's since been estimated she's easily worth well over a $1 billion today.