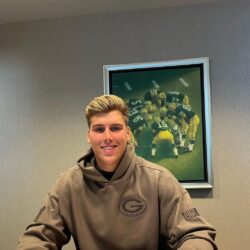 Birthday
July 6, 2001 (22)
Lukas Van Ness is an American football outside linebacker for the Green Bay Packers of the National Football League (NFL). His professional journey began at Iowa, where his collegiate football prowess led to his selection by the Packers in the first round of the 2023 NFL Draft.
Van Ness's impact on the field was immediate, as he became a starter in his redshirt freshman year at Iowa. His defensive skills shone through with 33 tackles, 8.5 tackles for loss, and seven sacks, earning him the title of Freshman All-American by the Football Writers Association of America. His sophomore year continued to showcase his talent, particularly when he was named the Big Ten Conference Special Teams Player of the Week after a notable performance against Iowa State.
Collaboration has been a cornerstone of Van Ness's career, especially evident in his interactions with teammates and coaches. His synergy with figures like Matt LaFleur, Brian Gutekunst, and fellow players has been instrumental in his development. The camaraderie within the team, including with Jordan Love, the starting quarterback for the Packers, has been pivotal in his transition to the professional league.
Recognition for Van Ness's abilities came not just from within his team but also from the wider sports community. His second-team All-Big Ten honor in 2022 is a testament to his skill and determination on the field. This distinction, along with his statistics of 10 total tackles, 1 sack, and 1 pass deflection as of Week 9 in 2023, underscores his growing reputation in the NFL.