 Lola
Anna Paquin also has a cat named Lola.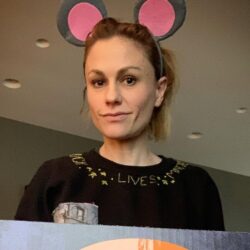 Birthday
July 24, 1982 (41)
Anna Paquin is a Canadian-born New Zealand actress, notable for her Oscar-winning performance as a child in the film "The Piano."
Paquin's career blossomed with her portrayal of Flora McGrath in "The Piano," and she soon became a sought-after talent in both television and film. She starred as Rogue in the X-Men film series, and her portrayal of Sookie Stackhouse in the HBO series "True Blood" garnered widespread acclaim. Other remarkable works include her role in "Margaret" and appearances in mini-series such as "Roots."
In her career, Paquin has collaborated with an array of prominent individuals. She acted alongside Holly Hunter in "The Piano," Hugh Jackman in "X-Men," Stephen Moyer in "True Blood," Matt Damon in "Margaret," Tom Cruise in "Minority Report," Alfre Woodard in "Roots," Denis O'Hare in "True Blood," and Kevin Spacey in "Hurlyburly." Her work with directors like Jane Campion in "The Piano" and Alan Ball in "True Blood" also stands out as notable partnerships.
Paquin's contributions to the entertainment world have earned her various awards. As a child actress, she won the Academy Award for Best Supporting Actress for "The Piano." Her role in "True Blood" earned her a Golden Globe Award. Moreover, she received a nomination for a Primetime Emmy Award for her performance in "Roots."