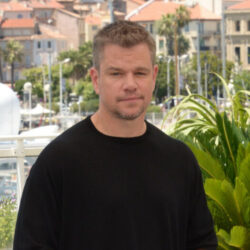 Birthday
October 8, 1970 (53)
Matt Damon is an American actor, screenwriter and producer. He has won two Academy Awards and two Golden Globes, among many nominations. He started acting in high school theater, where he met friend and collaborator, actor Ben Affleck. He attended Harvard, but dropped out because he won the lead role for Geronimo: An American Legend (1993). His breakout role came in the 1997 film Good Will Hunting, which he co-write and co-starred with Ben Affleck. It was a commercial and critical success, winning him an Oscar for Best Original Screenplay and Robin Williams an Oscar for Best Supporting Actor. This led to Steven Spielberg casting him in a lead role for Saving Private Ryan (1998) with Tom Hanks.
In the early 2000s, Damon found a new collaborator in director Steven Soderbergh, marking a definitive era in his career. Damon's portrayal of a crafty con man in Ocean's Eleven (2001), followed by Ocean's Twelve (2004) and Ocean's Thirteen (2007), allowed audiences to see him shine among a constellation of stars, including Brad Pitt and George Clooney. Later, Soderbergh directed Damon in "The Informant!" (2009), which earned Damon a Golden Globe nomination for Best Actor in a Musical or Comedy.
Damon's journey continued with Paul Greengrass. The Damon-Greengrass union resulted in three installments of the Bourne series – The Bourne Supremacy (2004), The Bourne Ultimatum (2007), and Jason Bourne (2016). Damon's transformation into Jason Bourne was a turning point in his career, and the role brought him international recognition, winning him an Empire Award for Best Actor. The films also starred Alicia Vikander, Edward Norton, Rachel Weisz, and more
In 2015, Damon teamed up with acclaimed director Ridley Scott for The Martian, where he played a resilient astronaut stranded on Mars. The film had a star studded cast including Jessica Chastain, Chiwetel Ejiofor, Kate Mara, Kristen Wiig, Sebastian Stan, Michael Peña, and Mackenzie Davis. The film was an extraordinary success, and Damon's performance garnered him a Golden Globe Award for Best Actor in a Motion Picture Drama and his second Academy Award nomination for Best Actor.
The year 2017 marked a new chapter in Damon's career as he partnered with the visionary director George Clooney in the dark comedy Suburbicon. Though the film divided critics, Damon's performance stood out, offering a complex portrayal of a man driven to the edge by circumstance.
Perhaps one of Damon's most unexpected yet fruitful collaborations was with the legendary director Clint Eastwood. In Invictus (2009), Damon, playing South African rugby team captain Francois Pienaar, delivered a performance that netted him an Academy Award nomination for Best Supporting Actor. Damon and Eastwood reunited in 2010 for Hereafter, where Damon's performance as a psychic struggling with his abilities was met with praise.
Matt Damon is a supporter of animal rights and rescue. He is also part of the Compassion Project, that campaigns against the Yulin dog meat festival in China.