Many could say that Taylor Swift is "arguably" the most famous cat mom with the most famous cats. But by this point, there isn't really an argument – Swift and her kitties Olivia Benson and Meredith Grey are truly the most famous among any living cats and their celebrity owners. And if you happen to disagree, feel free to Tweet that and see how that goes for you. Also, shout out to her 3rd cat, Benjamin Button, who doesn't (yet) have the legacy of Meredith and Olivia.
And in case you've been in a coma through September, Swift is currently dating Travis Kelce, Kansas City Chiefs tight end, Super Bowl champ, and proud dog dad to Rambo and Chauncey.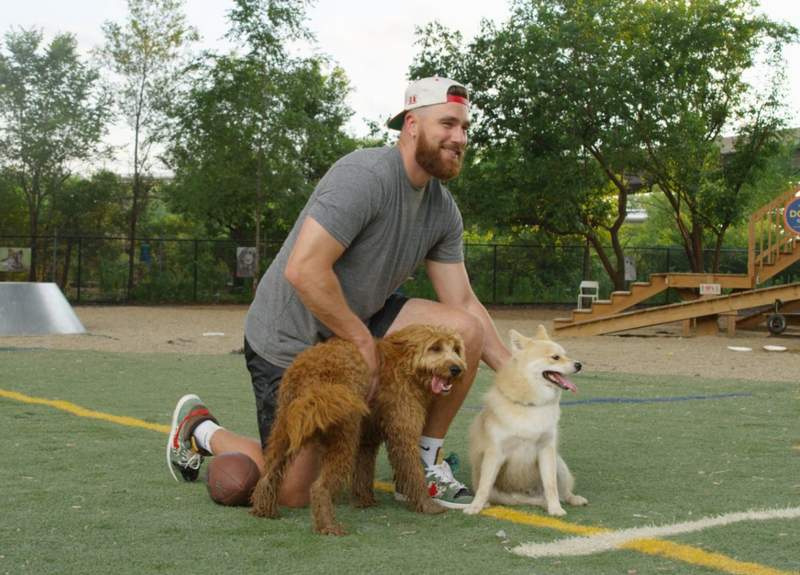 So here at Celebrity Pets, Taylor Swift has always been a top-visited profile. Since Travis Kelce and his brother Jason squared off in Super Bowl LVII this year, both their profiles have been popular for fans wondering what pets they have.
Travis clearly likes Taylor – But fans want to know if he likes her fur babies
Then, when Swift made her relationship publicly official by attending the Chiefs' play against the Bears on September 24, over 24 million people tuned in and it became the #1 show for females age 12-39. So more than a few Swifties tuned in. – And ever since, we've started to see traffic at Celebrity Pets for the Google search, "Does Travis Kelce like cats?".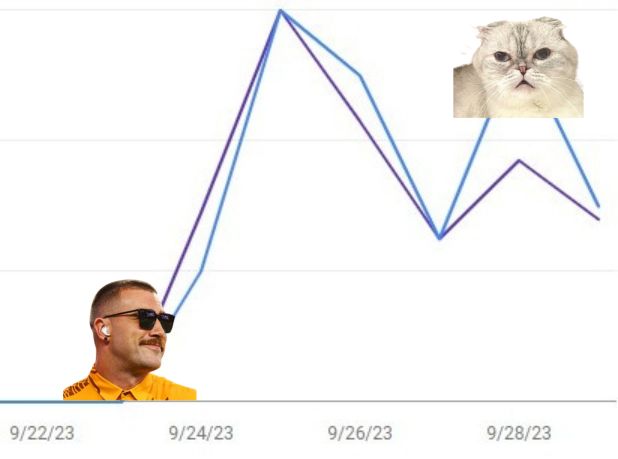 So there are Swifties who are rightfully concerned if Swift's new BF will get along with Swift's precious fur babies… And until the demand builds up enough to get an official statement from Kelce, we've done a deep dive to find any evidence on the burning question!
Exhibit A) Travis Kelce's first pets were cats
In a June 2019 interview with Arrowhead Addict, Kelce was asked "Did you grow up with pets?" Kelce shares that his first pets were cats, due to that being the type of pet his mom allowed them to have. His family lived in the suburbs, with his cats being outdoor cats and some running away. Kelce goes on to speak highly of his "main kitten" named Flash. And he says he "really got into pets" when he got his first dog. So we could infer from his answer that while he likes cats, he prefers dogs…

Exhibit B) Travis Kelce tweeted that cats creep him out!
But after some digging, we found a daming Tweet by @tkelce from October 13, 2016. Kelce replied to a tweet from now-deleted account @aleciabsmith, where he said, "Noo not a fluffy cat… cats creep me out… but yes a Mini Golden Doodle." Kelce then went on to get a Gooldendoodle named Rambo in 2018 and has got exactly ZERO cats since then. And note several Swifties have also found and replied to the Tweet, and they're not impressed to say the least… @AngelicaMarott7 replied, "Better get used to cats now Travis! ;)" @pghparrot replied, "Travis, you might learn to like cats. Would be helpful." And @reignssalt replied, "@taylorswift13 dump this man"
Did Travis Kelce ever like cats as a child? Or did he just settle for them until he could get a dog? Why would cats creep him out now if he had them as childhood pets? If Flash could have played football with him like his childhood dog Belle, would his opinion of cats be different today? What will Swift's fluffy Ragdoll cat Benjamin Button think when he sees this Tweet? Will Taylor turn his attitude on cats around? Or will he continue to be creeped out as Olivia, Meridith, and Benjamin scowl at him every time he's at Taylor's? And will this all lead to a new song with guest rap verses from Olivia and Meridith? Let's hope Swift or Kelce answers this question ASAP!
For more on their celebrity pets, visit our profiles on Taylor Swift and Travis Kelce.