One uniquely heartwarming story that came from the devastating Indian Ocean tsunami in December 2004, is the story of Owen the hippo and Mzee the tortoise. Also known as the Boxing Day Tsunami, this tsunami resulted from the third-largest recorded earthquake in history. While it happened in Asia, it was so strong it even affected the east coast of Africa 4,000 miles away.
This brings us to Owen, a baby hippopotamus in Kenya, whose family had just survived a dangerous experience. On Christmas Eve, strong rain washed Owen and his family from their home on the Sabaki River out to sea. The locals tried to convince the hippos to return up the river, but with no luck. Then the hippo family's luck got way worse, as the Boxing Day Tsunami hit the Kenyan coast.
The next day, along with the devastating loss of fishermen out at sea, the locals were also heartbroken to see only one small hippo left, stuck on a reef. The tired, scared, slippery hippo's luck did change, thanks to a team of people and wildlife rangers working together to rescue him – with boats, ropes, nets, and even cars! It was said that hundreds of people came to watch and cheer on Owen's rescue. He ended up with the name Owen as a tribute to the man who finally tackled him so he could be rescued.
Owen, now tragically an orphan, was taken to the Haller Park rescue center in Kenya. Not even one year old, hippos usually spend up to four years by their mother's side. Then, to everyone's surprise, this one-year-old would become best friends with a 100-year-old tortoise! Mzee, being understandably a bit grumpy at being a century old, was probably the most surprised.
In his hundred years, Mzee could have never expected a scared, baby hippo to run directly at him, just to hide behind him. When a young hippo gets scared, its normal for them to hide behind their big mom for safety, and Owen saw Mzee's big shell and thought "MAMA!!!".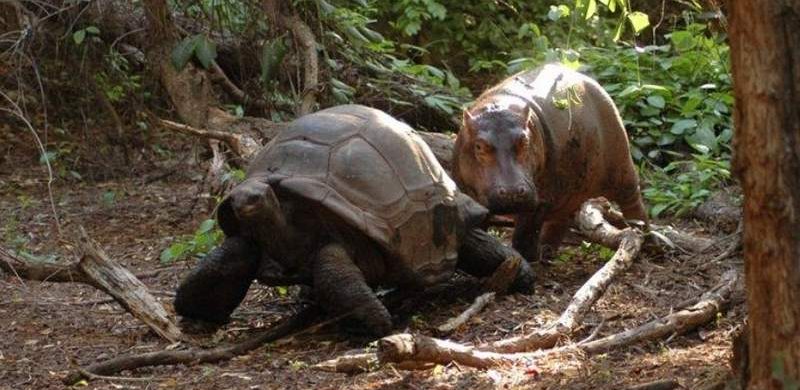 And while Mzee was confused at first, he apparently quickly got used to Owen, with both showing signs of affection to each other. Now besties, Owen would be seen trotting behind Mzee. They would eat, sleep, and swim together. And If anyone approached Mzee, Owen would even get aggressive, like a young hippo would do to protect their mom.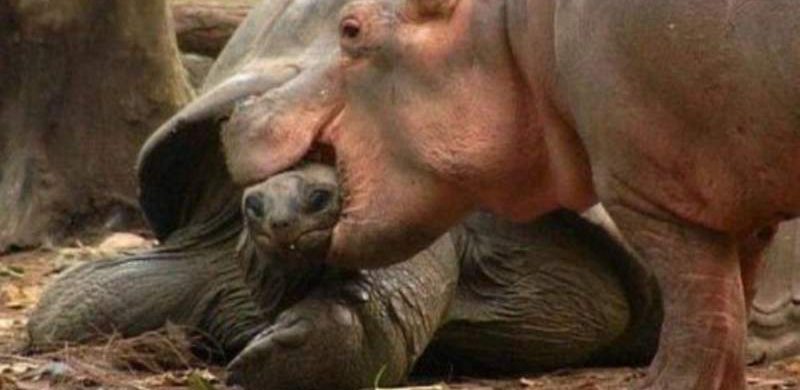 After three years as the world's strangest roommates, Owen became too big and had to move out and become an adult. He was introduced to Cleo, a female hippo, who he settled down with.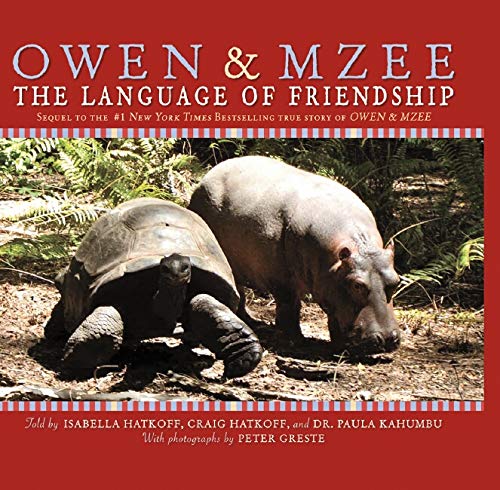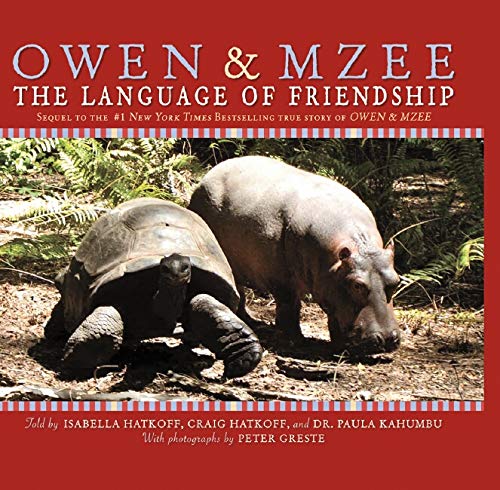 The story of Owen and Mzee touched the hearts of many people. So much so that the BFFs were made into two books: Owen and Mzee: The True Story of a Remarkable Friendship and Owen and Mzee: The Language of Friendship. It was even turned into an off-broadway musical, which debuts in 2018. The story was apparently turned into a screenplay by one of the writers of the film Shrek but hasn't been made. You can check out a music video made by the musical below:
Are Mzee the tortoise and Owen the hippo still alive?
As of 2023, Mzee and Owen are alive and well.
Check out a video with one of Owen and Mzee's caretakers below, along with some hippo-related articles:
Fiona the baby hippo is the official queen of summer
Pablo Escobar's cocaine hippos now considered people, may face execution