 No Pets (Sally Hawkins)
Sally Hawkins does not have any reported pets. During a trip to New Zealand, Sally mentioned her position on pets:
"I don't have any pets because I live in a flat and I think it's a bit cruel to keep them unless you can give them your time and a field to run in. But I adore animals. They make me feel sane. People tell you to avoid animals and children but I think it's the other way around. You know where you are with animals and children and if you are liked by either, I think you know you're okay."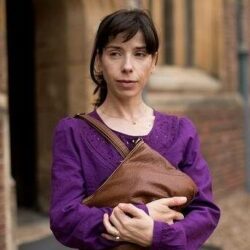 Birthday
April 27, 1976 (47)
Sally Hawkins is a talented English actress known for her versatility and captivating performances on stage and screen. With a career spanning over two decades, Hawkins has become a prominent figure in the film industry, delivering powerful performances in a range of genres, from comedy to drama. Some of her notable films include "Happy-Go-Lucky", "Made in Dagenham", "The Shape of Water" and "Blue Jasmine". Her performances have earned her numerous awards and accolades, solidifying her place as one of the most gifted actors of her generation. In this article, we will delve deeper into the life and career of Sally Hawkins.