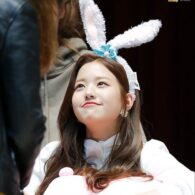 Cat Face or Bunny Face
Jang Won-young fans have long known that she loves dogs and bunnies. In true K-POP fashion, the fans took to social media and plugged the Internet with an ongoing debate, "whether she had more of a cat or bunny face". While either option would be ok to Wonyoung, she hopes to adopt both dogs and bunnies one day.
Jang Won-young, also known as Wonyoung, is a South Korean singer and model. She signed with Starship Entertainment as a member of IVE after leaving project girl group Iz*One. She placed first in the Mnet's girl group survival reality television show Produce 48.
In May 2022, Jang Won-young announced she was the newest model for SK Telecom. She was also selected as one of the models along with Leeseo in the Pepsi 2022 K-Pop Campaign. The campaign promoted with Starship Entertainment was a large collaboration that also drew attention to the latest promotional music video – "BLUE & BLACK".
Jang Won-young has also had the opportunity to collaborate with a plethora of artists and celebrities in the industry. For instance, she has worked with Kang Daniel, Lee Daehwi, Kwon Eunbi, and Choi Yena on various promotional activities and music projects. She's also crossed paths with the likes of Miyawaki Sakura, Kim Minju, An Yu Jin, Honda Hitomi, and Jo Yuri, establishing a vast network of professional relationships that have been mutually enriching.
Over her career, Jang Won-young has received several prestigious awards that confirm her standing in the industry. For example, IZONE's debut EP "COLORIZ" was recognized at the 2019 Gaon Chart Music Awards, and their album "BLOOM*IZ" won Album of the Year for the first quarter at the 2020 Gaon Chart Music Awards.