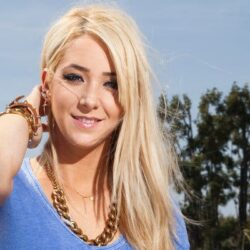 Birthday
September 15, 1986 (37)
Jenna Nicole Mourey is a former American former YouTuber that released videos under the Jenna Marbles name. She was one of the first streamers to achieve fame and over the span of ten years, her YouTube channel accumulated approximately 1.6 billion video views and 20.1 million subscribers.
Marbles' content was an eclectic mix of vlogs, beauty tips, challenges, and comedic skits. Her "What Girls and Guys Do" video series alone has amassed millions of views, offering a humorous take on the different behaviors of men and women in various situations. Another notable work is her "Drunk Makeup Tutorial," which became a sensation, contributing to her growing influence in the online beauty community. Jenna Marbles announced that she was quitting YouTube and disconnected her social media channels in June of 2020. She later married Julien Solomita in 2022.
She has since started many personal ventures including a brand of dog toys called Kermie Worm & Mr. Marbles as well as produced a film Maximum Ride (2006).
Over the years, Jenna collaborated with a plethora of other artists and personalities, leaving a lasting impact on the YouTube community. She appeared alongside Shane Dawson, Tyler Oakley, and Grace Helbig, discussing everything from beauty tips to social issues. Her podcast, "The Jenna & Julien Podcast," co-hosted with Julien Solomita, featured guests like Ethan Klein and Hila Klein of h3h3Productions, Casey Neistat, and Liza Koshy. Collaborations also extended into the world of music, with Marbles appearing in the YouTube Rewind alongside artists such as Markiplier, PewDiePie, and Rosanna Pansino.
Jenna Marbles garnered several awards, reinforcing her standing as an influential personality in the realm of online entertainment. She won a Young Hollywood Award for "Viral Superstar" in 2014 and was nominated for a Shorty Award in the "YouTube Comedian" category in the same year. Moreover, she made the Forbes' list of "30 under 30" in the Entertainment category in 2015.