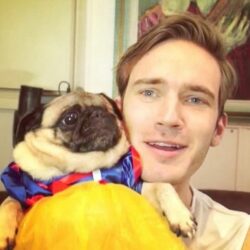 Birthday
October 24, 1989 (33)
Felix Arvid Ulf Kjellberg is better known as PewDiePie and occasionally as Pewds. PewDiePie's dog of choice is pugs. He's a famous Youtuber from Sweden who rose to stardom for his comedy, vlogging and his "let's play" videos (videos of him playing video games with his commentary). PewDiePie was once the most subscribed user on Youtube, which has earned him an estimated net worth of $20 million but has since fallen out of popularity due to anti-semitic comments. He has since denied being anti-semitic.
PewDiePie History
His love of video games and art started as a child, with him known to draw popular video game characters. While in university in 2010, he launched his Youtube channel. After realizing he hated his degree and really loved playing games and making videos, he dropped out of university. In order to keep creating videos in his early days, he sold prints of his Photoshop art and worked at a hot dog stand.
PewDiePie soon found a fan base and built up a following of over a million by mid-2012. In 2013 he became the most subscribed user on Youtube and broke other Youtube records, such as most viewed. With over 53 million subscribers, has been noted as one of the most influential Youtubers and his videos have drastically affected the sales of video games he features. His fame has also earned him sponsors such as Disney, as well as him to support several charitable causes.
Controversy
After a few months of controversy, PewDiePie made big headlines in February 2017. He had a video that features anti-semitic jokes in late 2016, which resulted in plenty of backlash on social media and with the press. This resulted in Disney and Youtube both dropping their sponsorship of PewDiePie and cancelling the release of the second season of his original Youtube series.
He is also known for his long-term relationship with Marzia Bisognin, who is also a famous Youtuber that also goes by the username CutiePieMarzia.