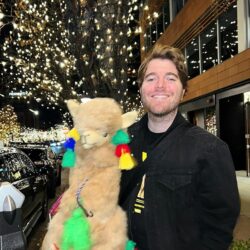 Birthday
July 19, 1988 (34)
Shane Lee Yaw, known professionally as Shane Dawson, is an American YouTuber. He became one of the first people to rise to fame on the video-sharing platform YouTube.
In 2017, the focus of Dawson's channel has shifted to include a wider variety of video genres such as extended vlogs, conspiracy theory videos and documentary-style series where he collaborates with other YouTubers like fiancé Ryland Adams, Garrett Watts, Morgan Adams, Tana Mongeau, James Charles, Drew Monson, Andrew Siwicki, Trisha Paytas and Bunny Meyer.
As of 2018, Dawson has released two New York Times best-selling books, I Hate Myselfie (2015) and It Gets Worse (2016), and his three YouTube channels have accumulated over 4.5 billion views. Since 2017, he maintains one active channel, shane, with 20 million subscribers and over 4 billion views. On June 30, 2020, YouTube indefinitely suspended monetization on all three of Dawson's channels following a public backlash over his past controversial comments. He returned to YouTube on October 7, 2021.
The Dawson pet family have their own Instagram page @unodawson