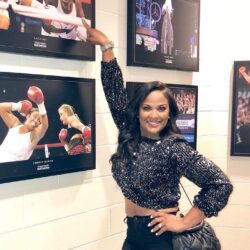 Birthday
December 30, 1977 (45)
Laila Ali is an American former professional boxer who is best known for being the daughter of the late boxing legend Muhammad Ali and holding multiple boxing titles during her own illustrious career.
Laila Ali made her mark predominantly in the boxing ring, with a professional career spanning from 1999 to 2007. In this period, she remained undefeated, winning all 24 of her fights, 21 of which were by knockout. Unlike many athletes who segue into celebrity through other channels, Ali's skills as a pugilist gained her substantial fame and media attention. She retired with various championship titles, including the WBC, WIBA, IWBF, and IBA female super middleweight titles, as well as the IWBF light heavyweight title.
Collaborations outside the boxing ring also made headlines for Laila Ali. She partnered with fitness trainer Jillian Michaels for health and wellness ventures. In the entertainment industry, she worked with TV hosts like Steve Harvey and Rachael Ray. Ali also engaged in philanthropy alongside Bill Clinton and Oprah Winfrey. She showcased her dancing skills with partner Maksim Chmerkovskiy on 'Dancing with the Stars,' and shared screen space with comedian Kevin Hart in an episode of 'Celebrity Family Feud.' Athletically, she worked with Serena Williams in charitable endeavors and appeared on WWE with wrestler Trish Stratus. In the world of fashion and beauty, Ali collaborated with Kimora Lee Simmons, while her culinary pursuits saw partnerships with chefs like Bobby Flay and Curtis Stone.
In 2002, she won the Femmy Award for "Inspirational Fighter of the Year." She was inducted into the Nevada Boxing Hall of Fame in 2015 and became the first woman to be honored with the prestigious President's Award by the Nevada Boxing Hall of Fame in 2018. Besides her sporting achievements, Ali has been recognized for her philanthropic efforts, receiving a community leadership award from the YMCA Black Achievers in Industry Awards.